It's time to unpack those jumpers and get back in our Ugg boots, the temperatures have dropped and winter is upon us, but just because it's colder and sometimes a bit greyer, that doesn't mean we have to spend the whole time inside. Lucky for us here in Rockingham, winter is actually quite pleasant, other than when an odd storm comes through, most winter days consist of sunshine, temperatures in the low 20s and little wind, making it perfect weather for getting outdoors. Read on as a I write and share my experiences from a recent biking adventure on a beautiful Rockingham winters' morning in June, I hope to inspire you to add this to the winter activity list.
It had been a while since I'd ridden my bike, so I took it out of the shed, dusted it off, threw on a lightweight jacket and leggings and set off on a morning adventure. It was a calm day and the sun was shining. Immediately I could feel the cool, crisp, winter air on my face, it was more refreshing than cold and after a couple of minutes I was toasty warm.
I started my journey at the northern end of the Rockingham Foreshore, riding past the floating ball then along the boardwalk past the cafes that were bustling and lively with the breakfast crowd. I continued on past the Cruising Yacht Club, stopping at the Catalpa Escape Memorial to take some photos and subsequently learn that in 1876, six prisoners, members of the Irish Republican, escaped from Fremantle prison and made their way to Rockingham where they then left by boat from Rockingham Beach. The memorial is a great place to stop, take in the views and learn a bit about the history of Rockingham.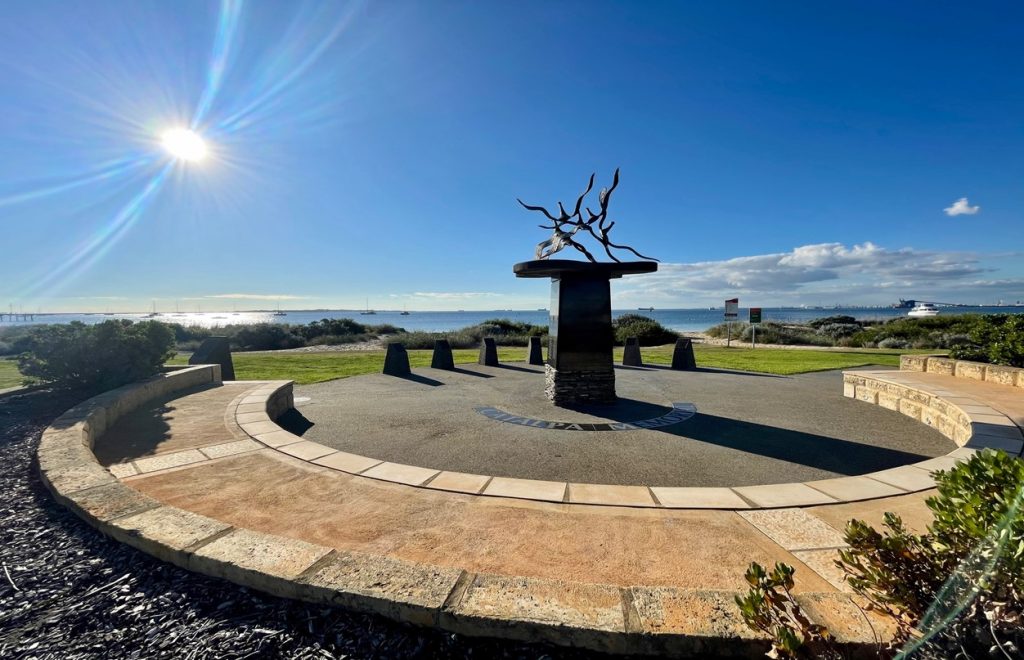 I decided it was time for a coffee and some breakfast, so I made my way to Palm Beach and stopped in at 'Spill the Beans', a beautiful retro style café situated opposite Palm Beach Jetty. I opted for a table outside to admire the slightly hazy coastal views. The breakfast menu had plenty of options, I chose the spinach, fetta omelette and a flat white. The staff were friendly and the service was great with the food coming out quickly, the omelette was cooked perfectly and served with two slices of toasted turkish bread. I got chatting to a lovely couple next to me and asked if they come to Spill the Beans regularly, which they did, I asked them what they liked most about coming to the café, they said "For us it's the location, the views, the friendly staff and it's only a short walk from our home". It's also worth noting that the area out the front is dog friendly and the staff are very attentive, making sure each dog has a bowl of water.
After coffee and breakfast, I got back on the bike and continued my adventure. I rode past Rotary Park which is very pretty and worth stopping for a look. I continued on past Mangles Bay and around the corner before arriving at the Naragebup Rockingham Regional Environmental Centre. If you're passionate about the environment or just love nature, then this is the place to visit and the entry fees are very reasonable – $5 for adults and $2 for children or concession card holders.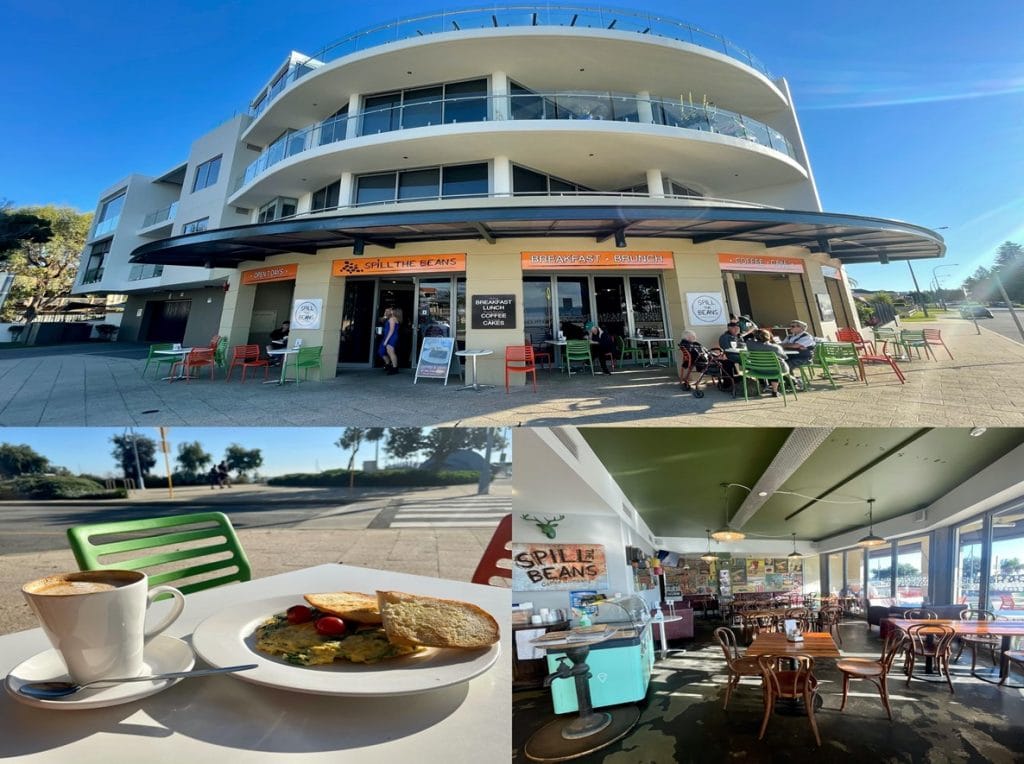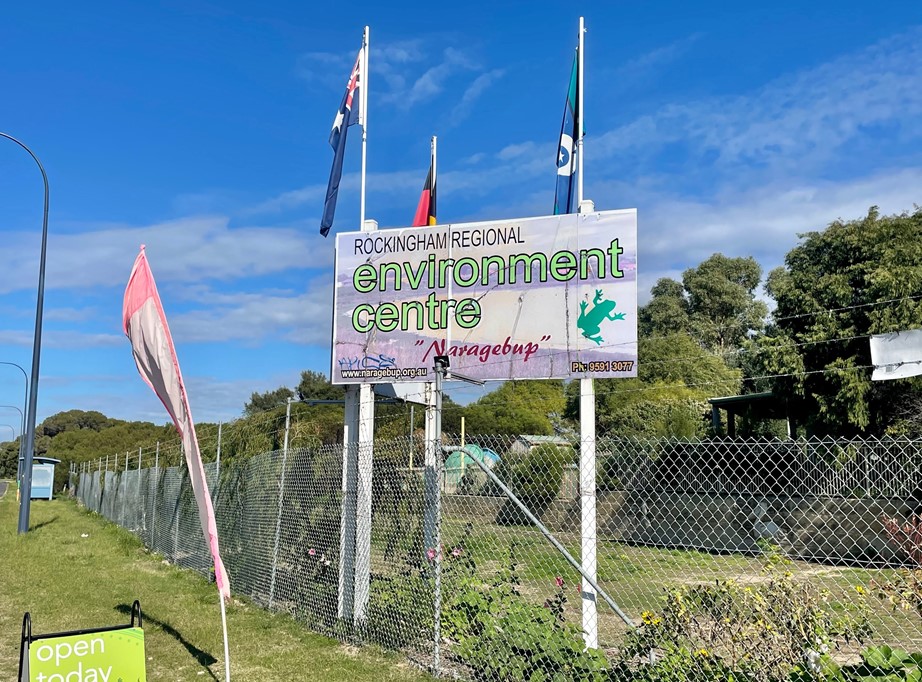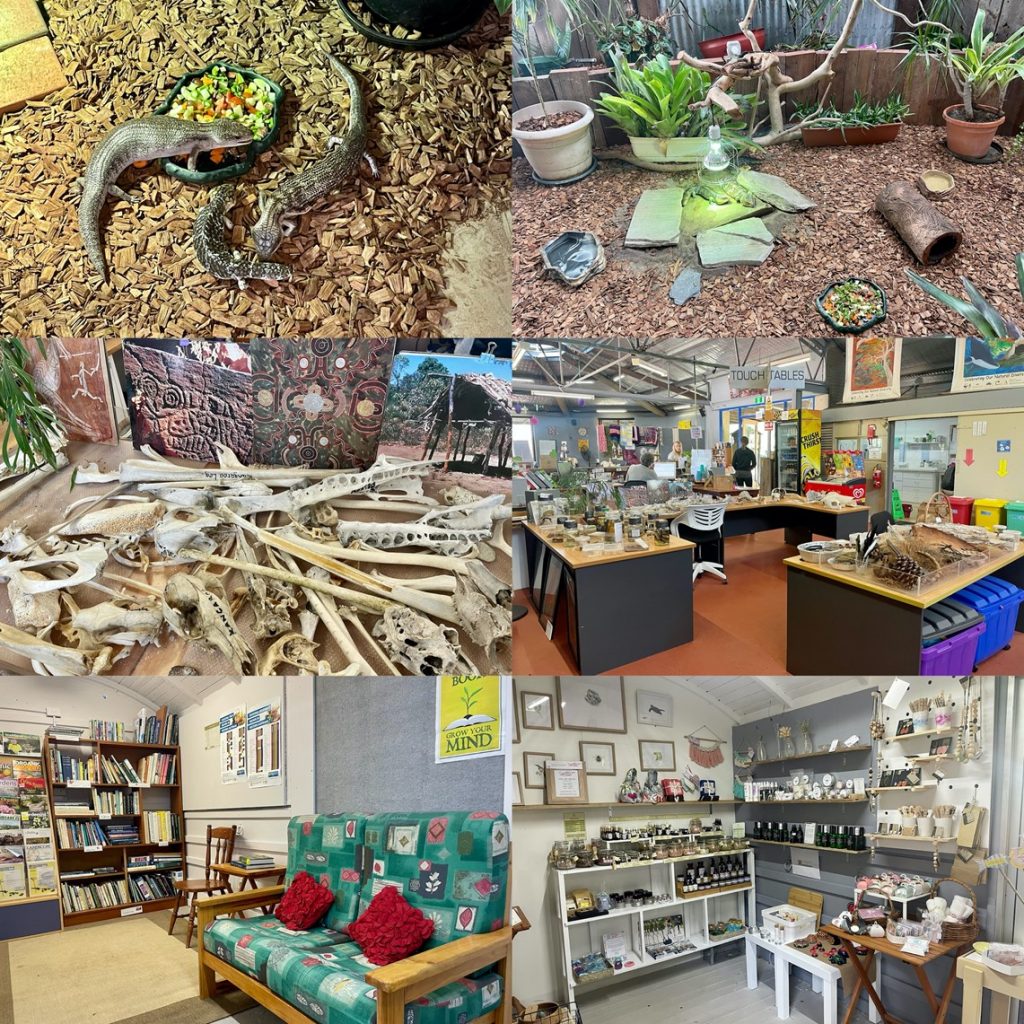 The outside grounds are beautiful, very green and peaceful with plants, trees and veggie gardens all around. I came across the chickens and ducks, the chickens are quite friendly and keen to chat, if you want to feed them, bags of chicken pellets are available for $1 at the front counter. I made my way through the Bush Tucker Trail, reading and learning all some of our native plants and what their primary uses are in Indigenous culture. Did you know… the gum from a grass tree branch can be used as glue for making tools such as knives. I came across a beautiful tiered amphitheatre which I later learned is used for presentations and educational events, many of which run during the school holidays. You can check the website or Facebook page for more information closer to school holiday time.
http://naragebup.org.au
Inside the centre, there are a few reptile enclosures where you can see pythons, bearded dragons and blue tongue lizards. There's a touch and feel station where you can look at and touch a variety of animal bones and native plants. There's also a reading nook, gift shop and coffee station with many tables and chairs set up all around the centre to sit down, relax and take in the surroundings. There's even a life size chess board outside, surrounded by trees and bushland and some benches making it a perfect spot for a picnic.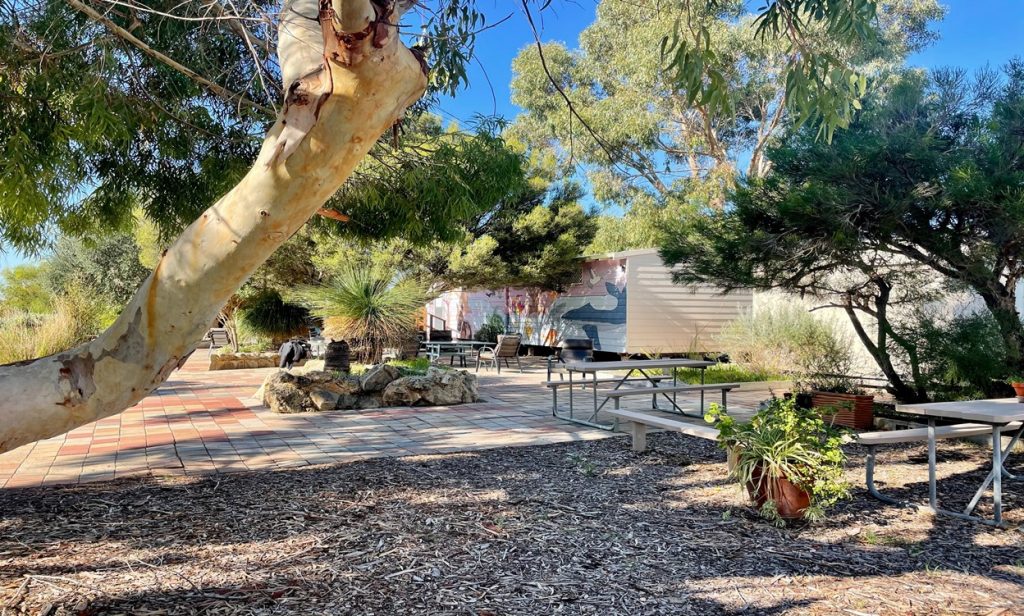 Naragebup Environmental Centre take recycling seriously and have a number of colourful, eye catching bins set up out the front available for the public to recycle items such as coffee pods, ink cartridges, household batteries, mobile phones, bread tags, dental packaging, shredded paper and old stationary such as biros and highlighters. I know after seeing this, I will be making the effort to recycle these items going forward. The Environmental centre is run entirely by volunteers who do an amazing job keeping the grounds looking beautiful. Your visit and small entry fee mean the world to them and with our planet struggling so much right now, we could all benefit from learning how to make changes in our lives to help repair and ensure its longevity.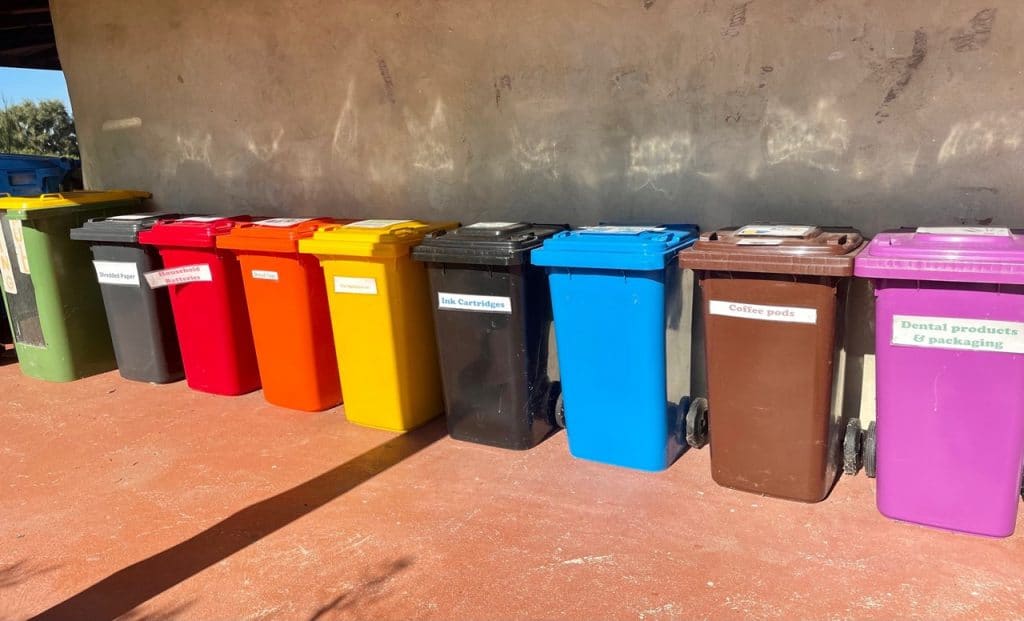 If you still have energy left afterwards, you could then take a walk or ride around the beautiful Lake Richmond straight across the road. Lake Richmond is the perfect place for a peaceful bush walk with some nice look out spots along the way to take in views of the lake, trees, wildlife and also the thrombolites which look like rocks but are actual living fossils and can change shape. Lake Richmond is quite the pelican hang out spot, so be see them and laugh and their quirky ways, they are very entertaining to watch.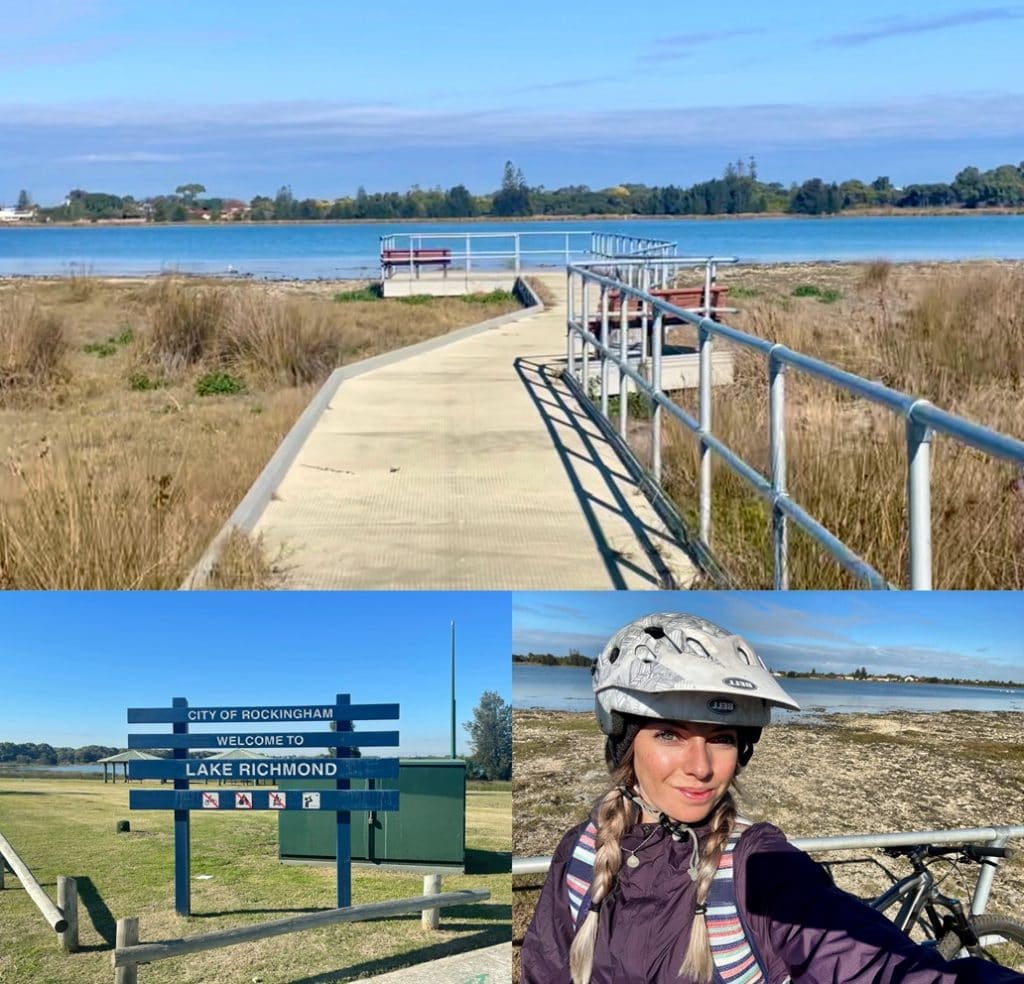 My ride, including all the stops took about three hours return, it was a great way to spend the morning and nothing beats fresh air and ocean views. So, what are you waiting for, dust of that bike, grab your adventure buddies and set of for a day of biking and sightseeing. Make this winter season one of adventures and good times.