If you've driven down Mundijong Road, chances are you would've caught glimpse of a large man-made lake with people being towed in circles around it, you may have even seen someone flying through the air as they've jumped off one of the many white obstacles strategically placed in the lake. I regularly see people slowing down on this road trying to have a look and figure out what the heck is going on, what you're seeing is Perth Wake Park, a mega fun hub for kids, adults and families alike and the only cable wakeboard park in Western Australia.
Being keen wakeboarders themselves, owners Simon and Ben felt there was a need for a cable wake park in Perth due to the increasingly limited ski areas available for boats. Using their background in Construction, Business Management and Water Sports Coaching, they got to work building and 18 months later in October 2014, Perth Wake Park was officially open for business.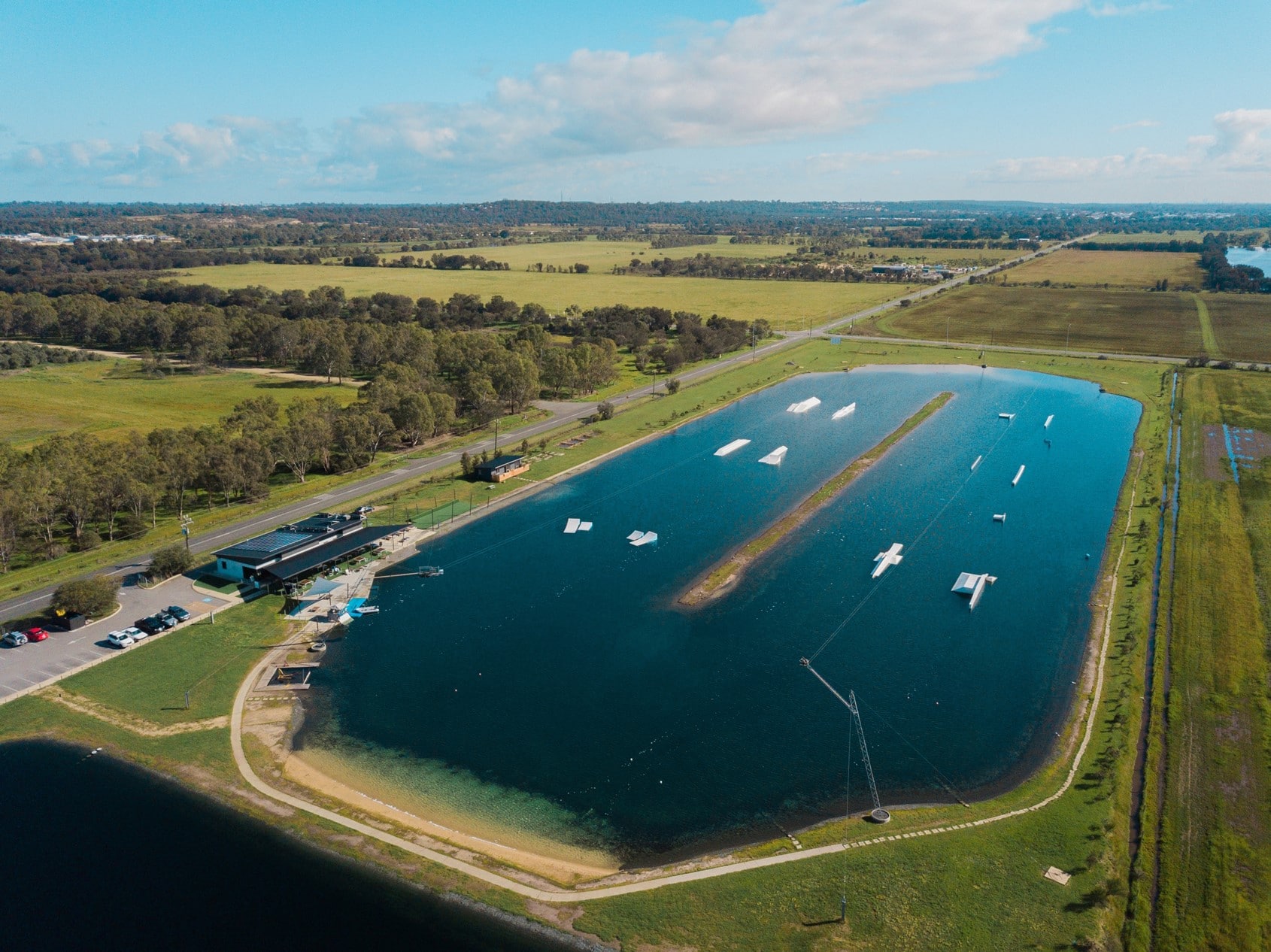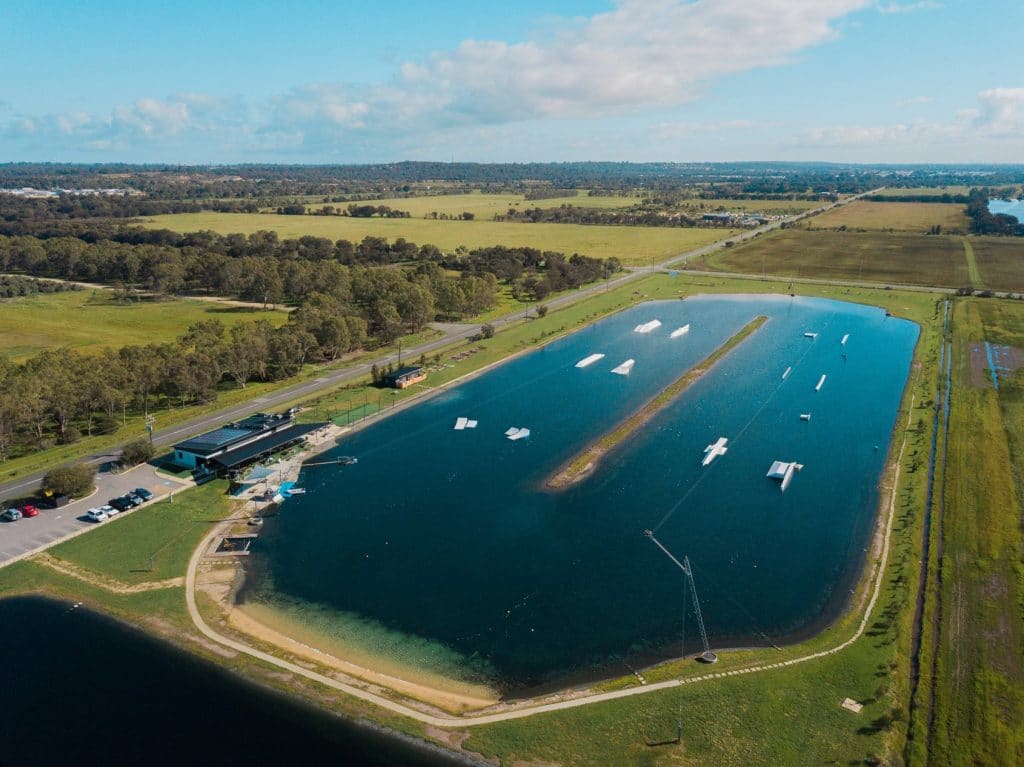 Perth Wake Park is suitable for riders of any level, offering a full-size main cable and two beginner specific cables. If you've never been wakeboarding before, or it's been a hot minute since you have, do not fear, you can show up anytime and ask for an introduction package which will give you 1 hour on the beginner lake (run at a slower speed), with instruction and guidance from a friendly staff member and 1 hour on the main lake with further coaching to help you perfect your technique. The introductory package includes a board, buoyancy vest and helmet. Wetsuits can also be hired for an additional cost. Lessons run every hour (every half hour during the summer months). If it's your first time to the park, you'll be required to watch a short safety video and sign a rider waiver. This is a prefect package to learn how to wakeboard, I'm warning you now though, you may become addicted!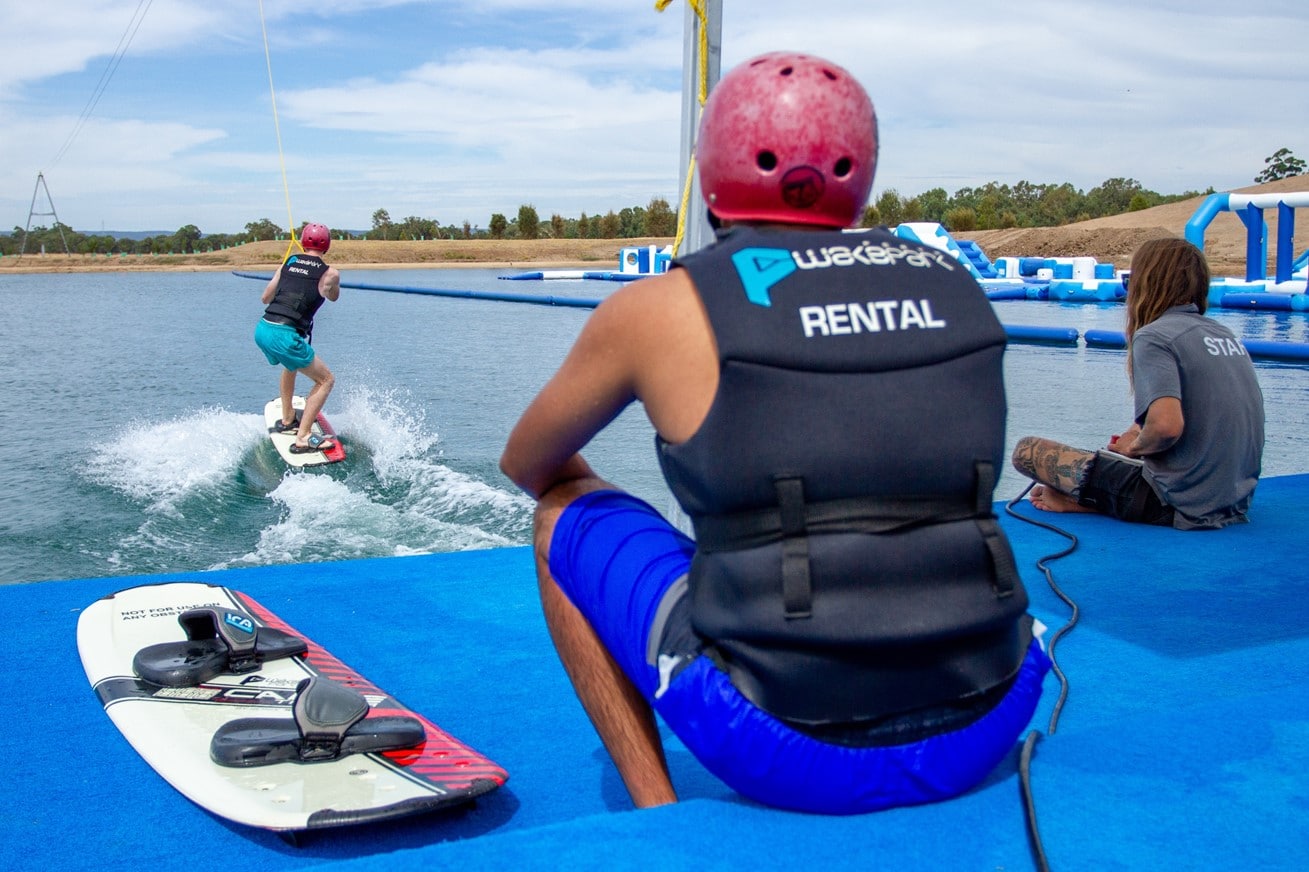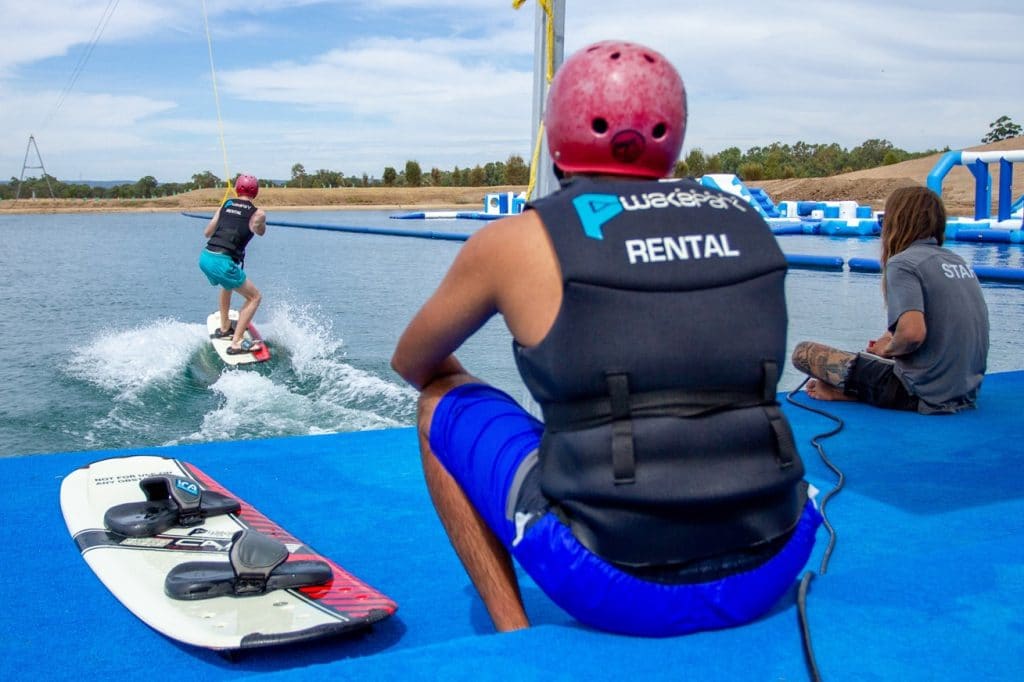 The main cable runs at a faster speed and has eight carriers which are appropriately spaced allowing eight people to ride at once. The main lake is filled with a variety of custom made obstacles, (kickers and rails) of different sizes for intermediate and advanced riders to get creative and have some fun. The obstacles can only be ridden on finless boards with proper bindings (no slip in straps), if you don't have your own board, they are available to hire. Perth Wake Park offers a range of different pricing options to suit everyone, from hourly and daily passes to full memberships to maximise your time on the water. Membership options include discount passes which reduce the cost of your ticket every time you ride, seasonal passes which allow unlimited riding during a certain season (The upcoming Summer Pass will allow unlimited riding from 1st November until 31st March) and the full season pass for unlimited riding all year round. Check out the Perth Wake Park website for all the pricing/membership information.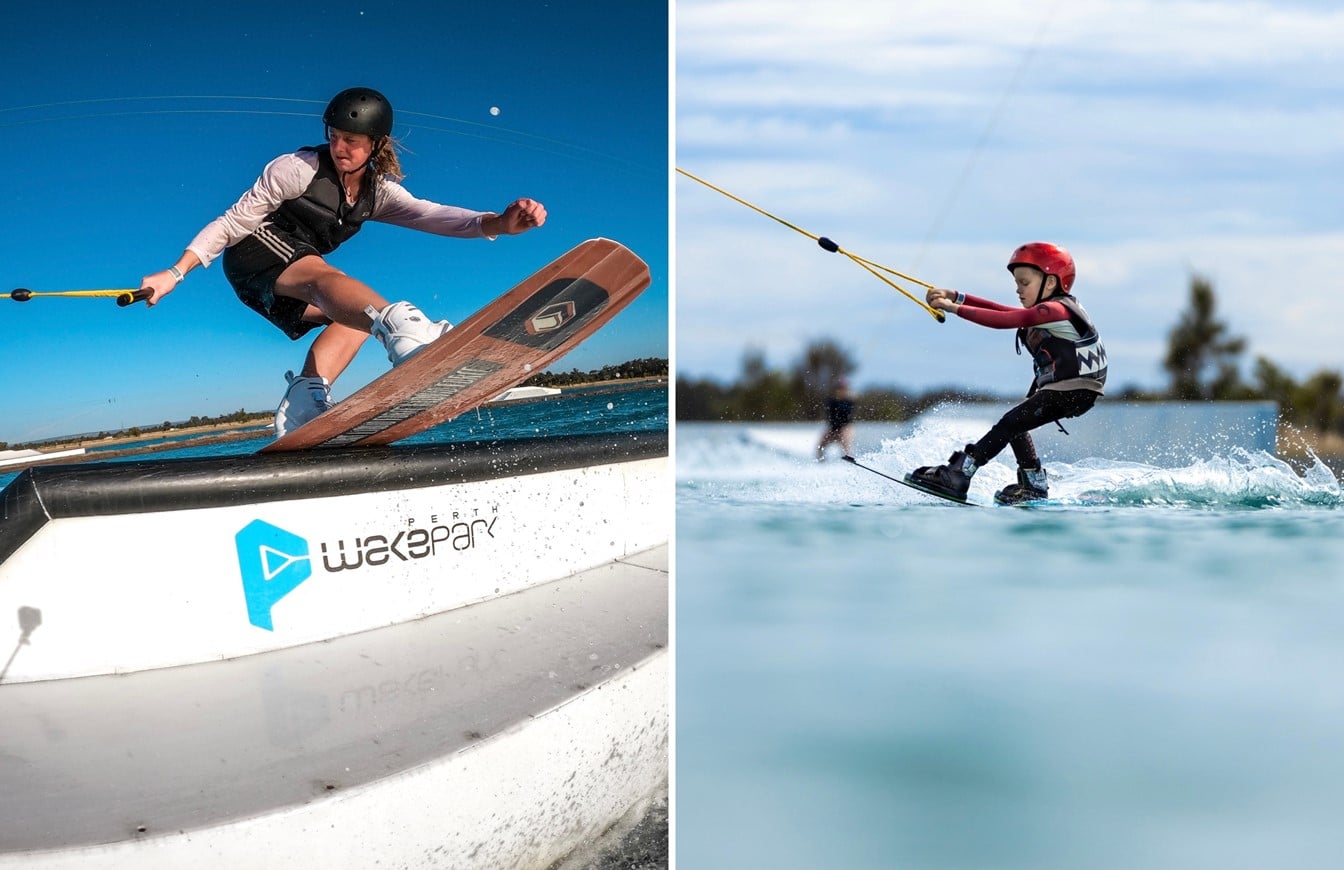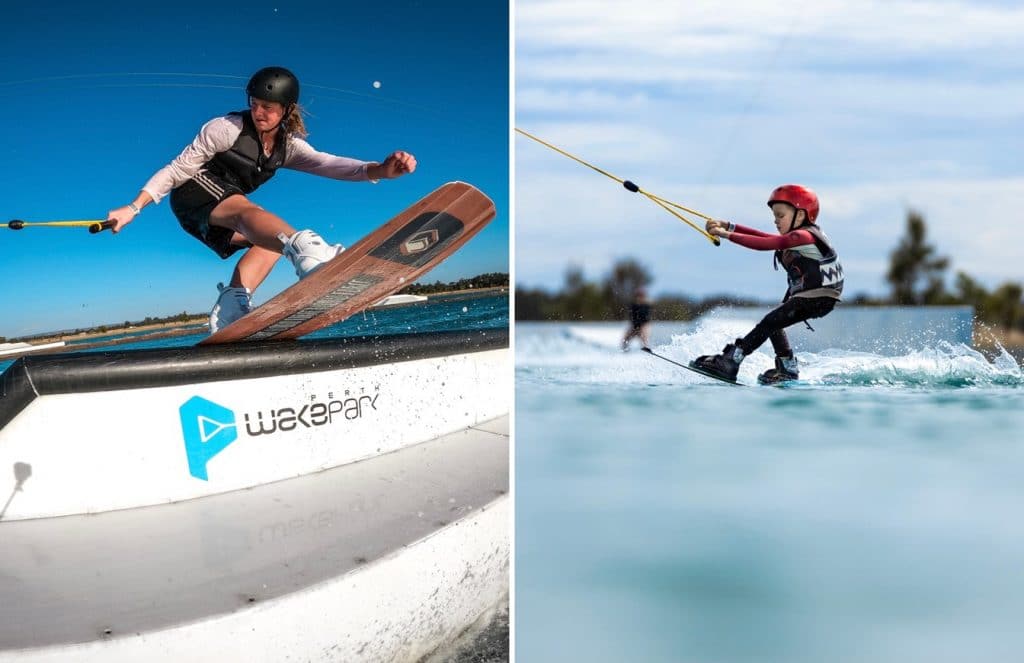 Perth Wake Park has a pro shop on site which sells all the latest gear including wakeboards, bindings, helmets, vests, wetsuits and Perth Wake Park merchandise. If you need help selecting wakeboarding gear, the friendly staff can help you chose the right equipment for you. Demo boards are also available to try and buy.
For the ladies… during the warmer months Perth Wake Park host several 'Ladies of the Lake' clinics (next one coming up Sunday 9 October). These are organised and run by local Ronix rider Symonne Kennedy. With their smiles and electric energy, Symonne and the other coaches will help you as much as possible to get up and riding. Cost of the session includes a board, helmet and vest, 2 hours of coaching and a delicious healthy breakfast to finish. If you've been thinking about giving wake boarding a go or you're keen to progress your riding then this is the perfect session to attend, the vibes are always high and I guarantee you'll be smiling for the rest of the day. Join the 'Ladies of the Lake' Facebook page to keep up to date with session dates/times.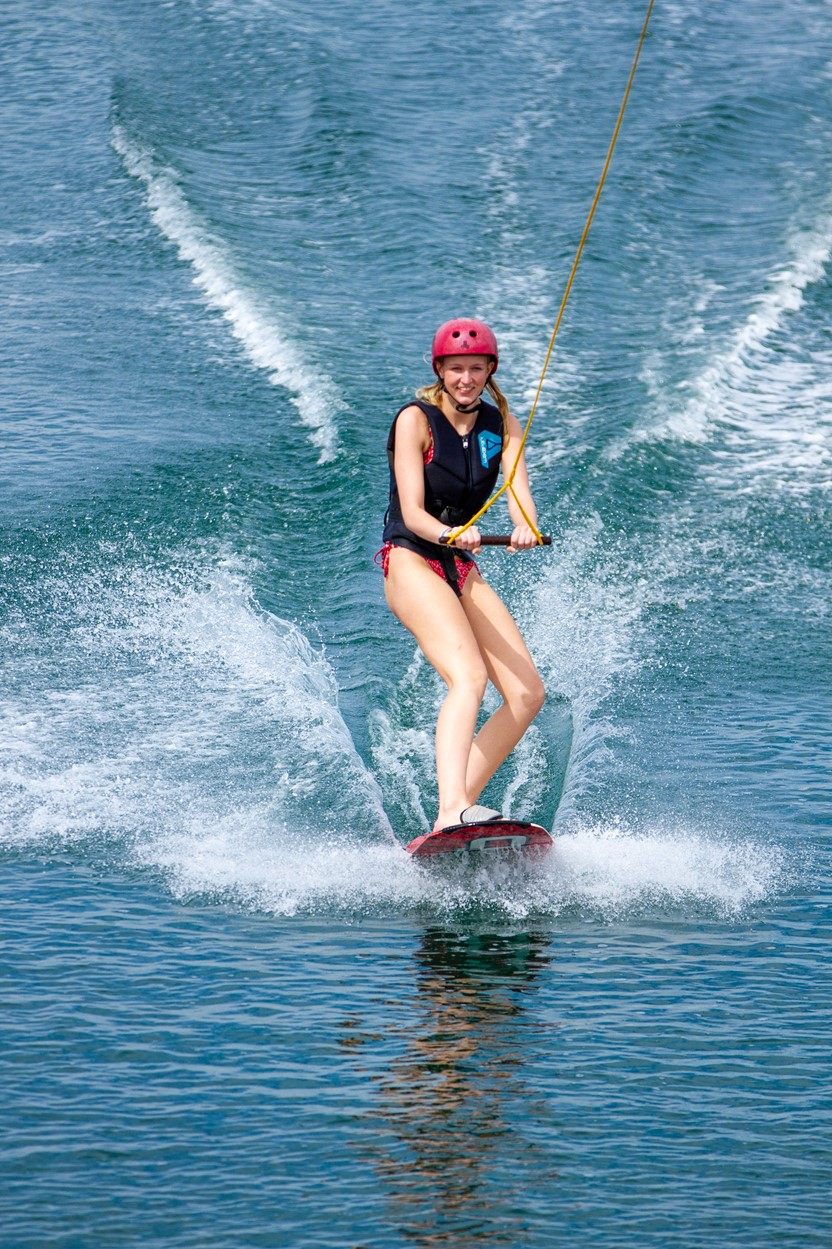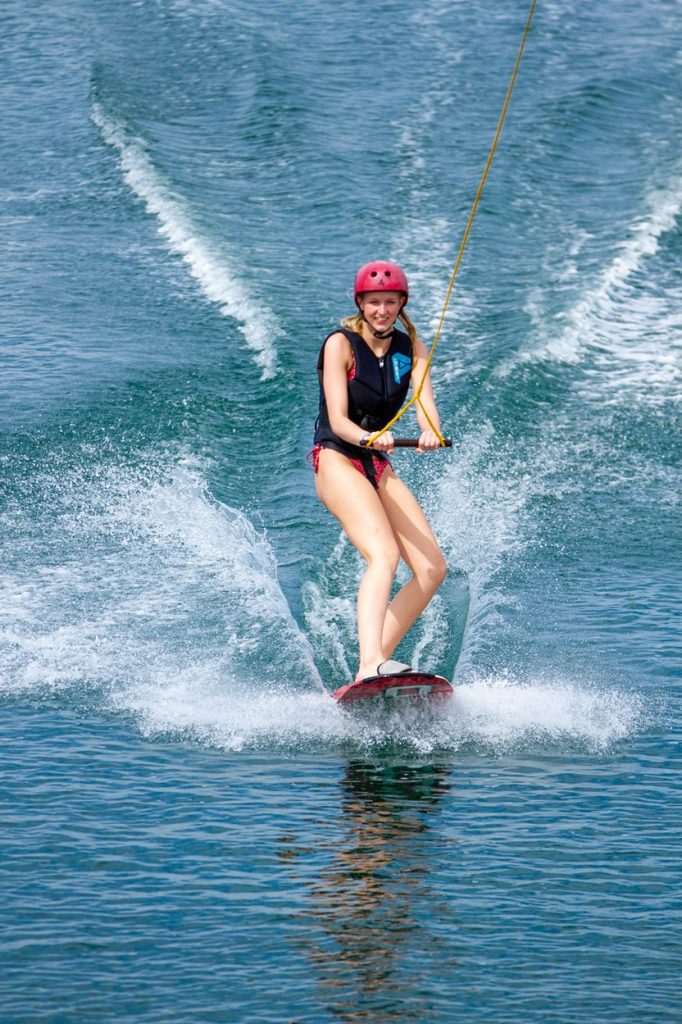 Ok, let's talk snacks… there's no doubt about it, riding makes you hungry, this can be quickly addressed by a visit to the café. The Perth Wake park Café offers a variety of foods including burgers, wraps, chips and salads, the food is satisfying and very tasty! If it's coffee you're after, the café makes a mean barista coffee using Crema coffee beans and there's usually some sort of delicious muffin or slice on display to compliment your coffee.
EXCITING NEWS… Perth Wake Park recently opened a bar! This means you can now enjoy a refreshing drink after your ride. It's the perfect place to catch up with friends, relax and watch all the action on the lake. The bar is beautifully decked with a range of seating including high and low tables and a long bar bench which directly faces the lake allowing front row views. All tables are covered with large shade sails providing protection from the sun. There's a range of Gage Road beer on tap along with white, red and sparkling wine, cans of cider and other specialty drinks. It's worth noting, once you've consumed an alcoholic drink, you're not able to go back out riding, this is for your own safety.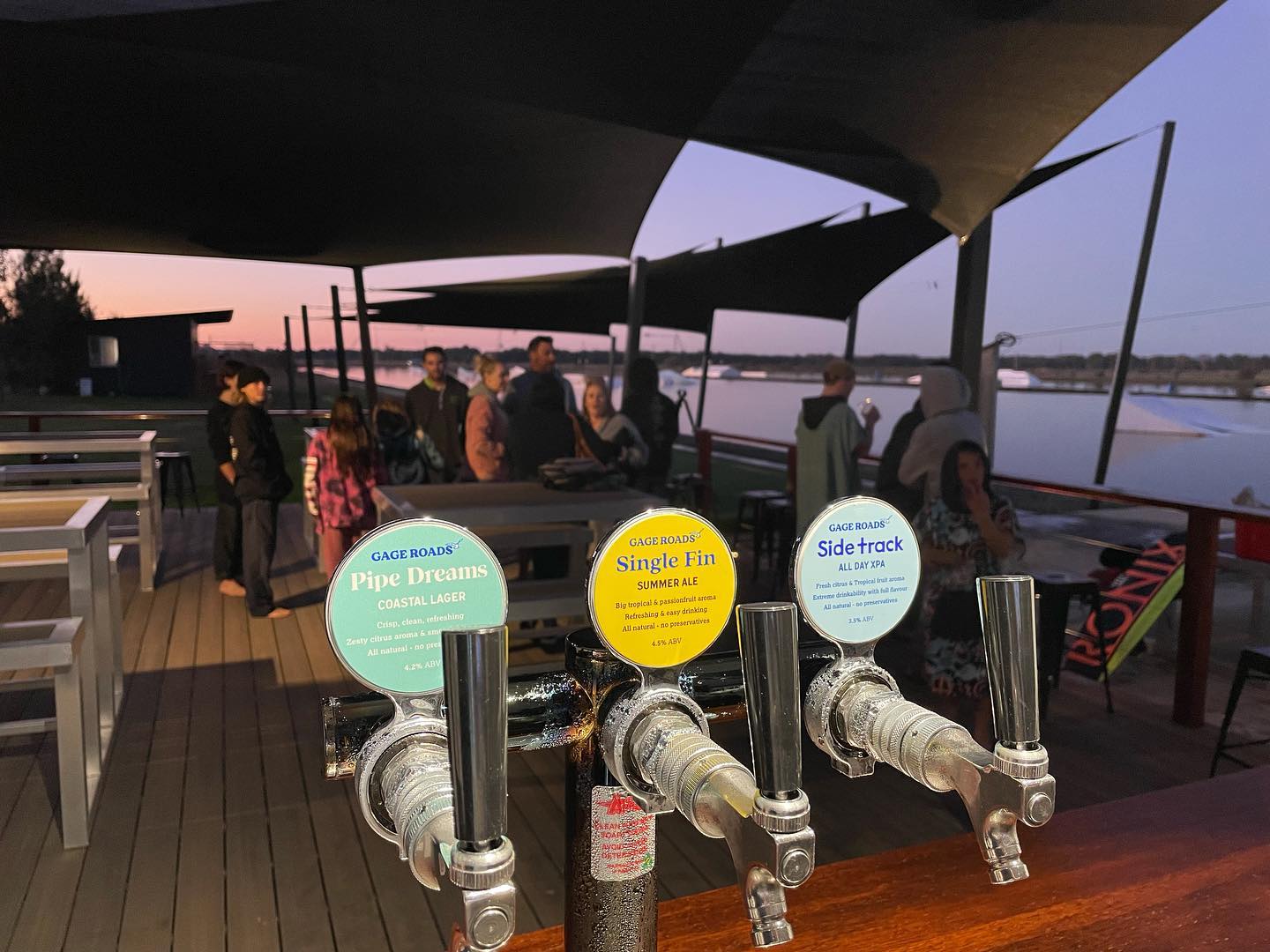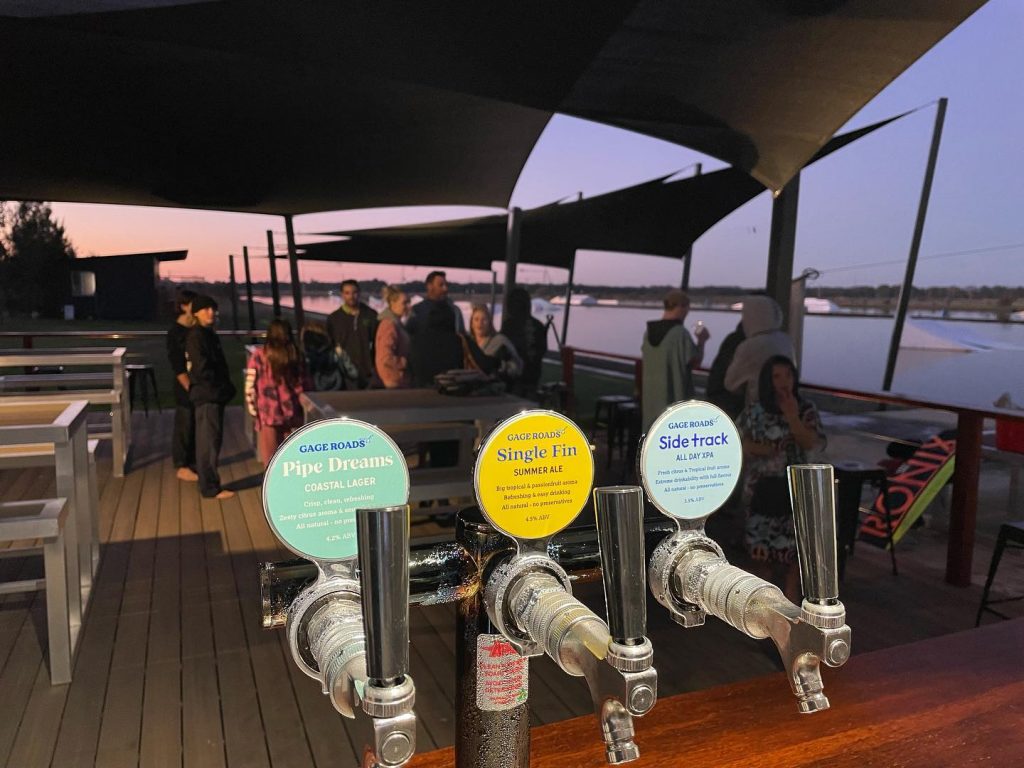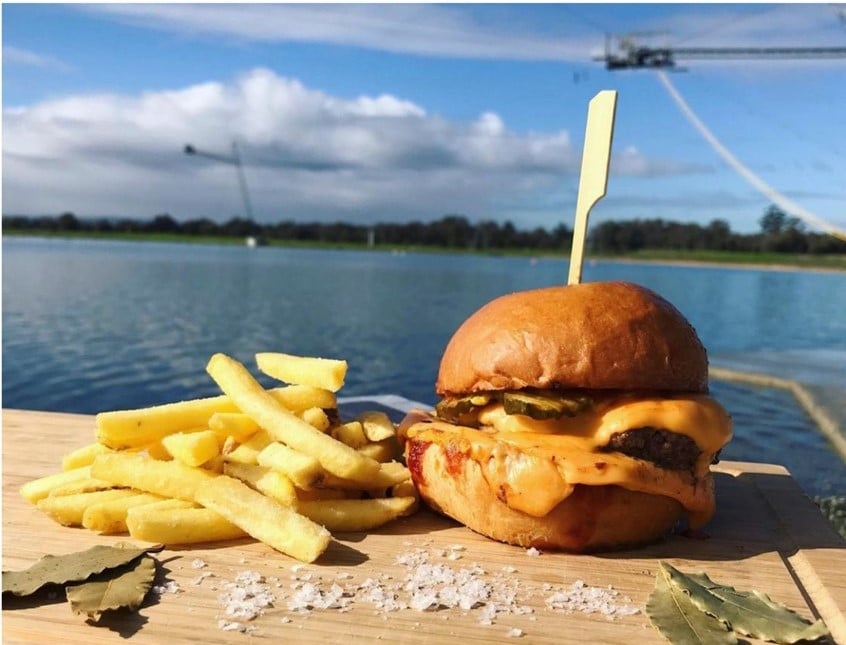 Self disclosure, Perth Wake Park is one of my favourite places and you'll find me there 2-3 times per week. As a snowboard lover who lives in Perth (where the snow is non-existent), the park has been a saviour in distracting me from the very serious effects of snowboard withdrawal. I find wakeboarding a super fun form of exercise and it constantly challenges me as I learn new things and progress. There's nothing like gliding along the water feeling the breeze on my face, it gives me a sense of freedom and creativity that sometimes as an adult is hard to find. It's also the sense of community that brings me back.
Here are what some of the regular riders and staff have to say about Perth Wake Park, why they like it so much, and what keeps them coming back.
"I like Perth Wake Park for its laid back atmosphere, a collective mix of riders of all ages, good food, a place to get your mind off stress, great staff and all together a sick place to hang out. I love riding there as riding is my passion and flipping, spinning and hitting rails is just really fun and awesome" – Gracie
"I love the sense of community and seeing the excitement that people have when they progress and get that trick they've been working on" – Jay
"The wake park is so sick, the community is so awesome to be around and it gets you so excited to keep coming back and riding!!" – Tom
"We get to meet new people every day and help them learn an exciting sport in a fun and relaxing atmosphere" – Lucy (Staff Member/Front desk Queen)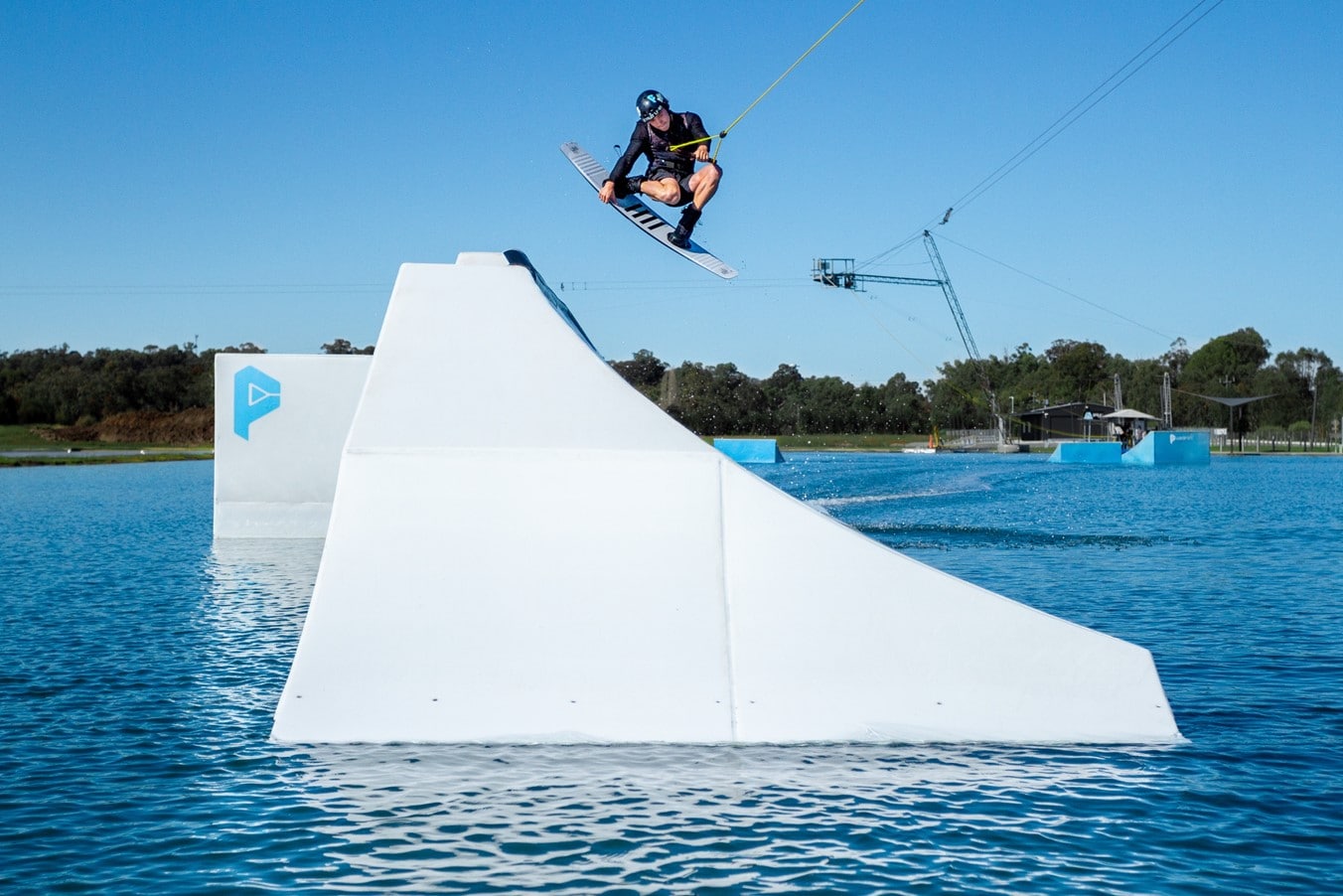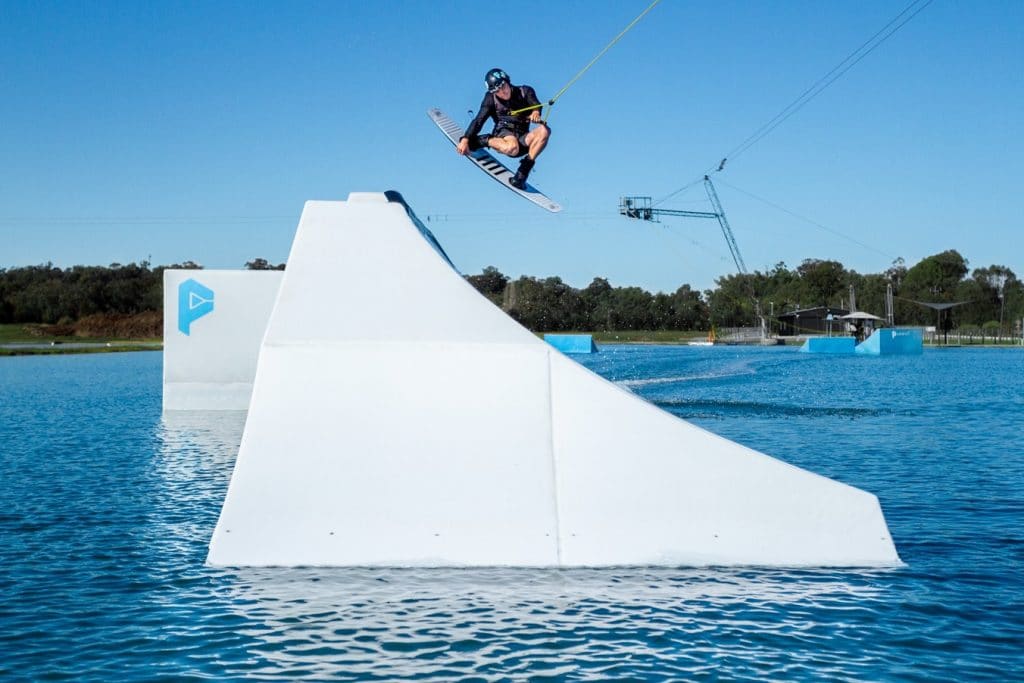 Attached to Perth Wake Park is the Perth Aqua Park – A huge floating inflatable fun park of obstacles, slides, jumping pillows and more. This is a guaranteed way to keep the kids entertained over the holidays (and tire them out). Perth Aqua Park re-opens in November.
I hope now I've convinced you, the people of Rockingham and surrounds, to get on board (no pun intended) and pay Perth Wake Park a visit. Take the whole family, get some lessons and allow yourself to have mad fun while learning something new.
Perth Wake Park is open Wednesday to Friday 11am – 6pm | Saturday & Sunday 10am – 5pm. Extended trading to begin in November.
*FYI, Perth Wake Park and Aqua Park are hiring and looking for staff to fill the below positions for the upcoming Summer season (Positions are 18+).
Cable operator – Wake Park
Café/Bar staff – Wake Park (RSA required)
Life Guards – Aqua Park
If you're friendly, enthusiastic and interested in working at Perth Wake Park, email your resume and cover letter expressing why you feel you'd be perfect for the role to [email protected].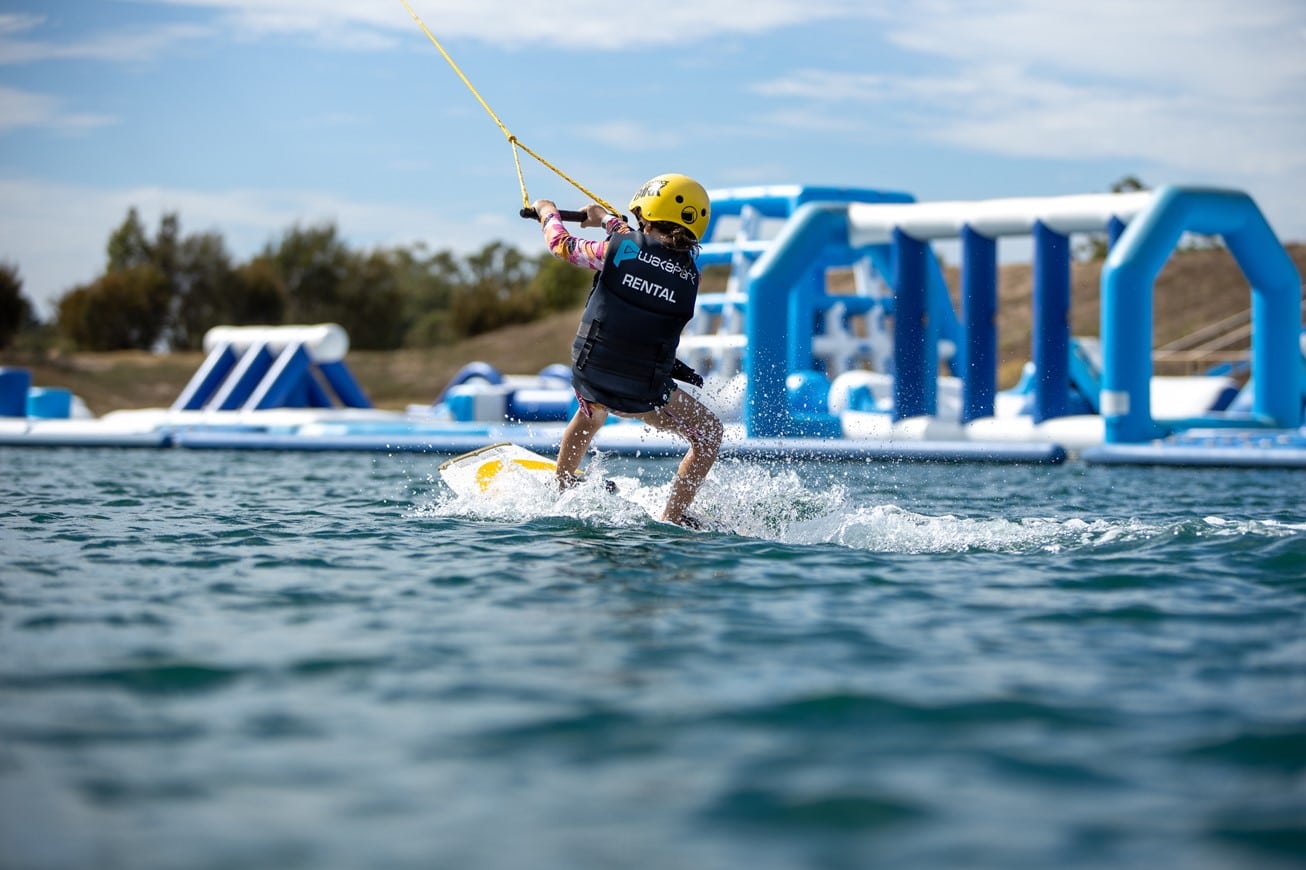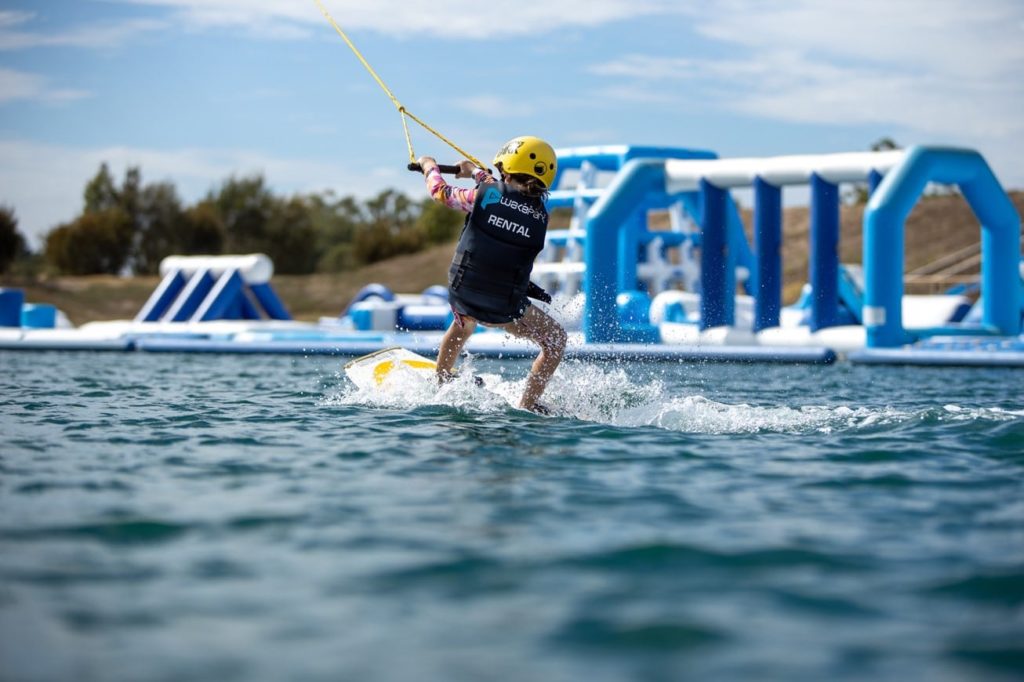 Perth Wake Park – Lot 482 St Albans Road, Baldivis, Western Australia.
Contact Number: (08) 9524 2884
Email: [email protected]
Website: perthwakepark.com.au
Facebook: Perth Wake Park
Instagram: @perthwakepark