Off The Beaten Track is a small WA eco-tourism business founded by Tracy four years ago, offering a range of hiking tours with a twist. Inspired by her own passion for hiking and the positive changes it brought to her life, Tracy decided to start a small hiking group. Tracy realised that people want to get out amongst nature and hike, however many aren't confident to do so on their own, by hiking as a small group, confidence can be built together and new friendships formed. The group hikes were a big success and from there, Off the Beaten Track was born.
Last week, I was lucky enough to be invited to experience Off the Beaten Track's newest walking tour, the Point Peron Sunset & Sparkling Soiree – A mini hike followed by champagne and cheese while watching a stunning Spring sunset, sounded pretty neat to me! It certainly was an evening to remember and a different way to experience the beautiful Point Peron. Let me share my experience with you.
First up was the meet and greet with everyone meeting in the first carpark to the right, I was slightly nervous approaching the group who were already gathered and waiting on me as I was running a few minutes late, but the nerves were short lived, Tracy and the group were so friendly and welcoming making everyone feel at ease straight away.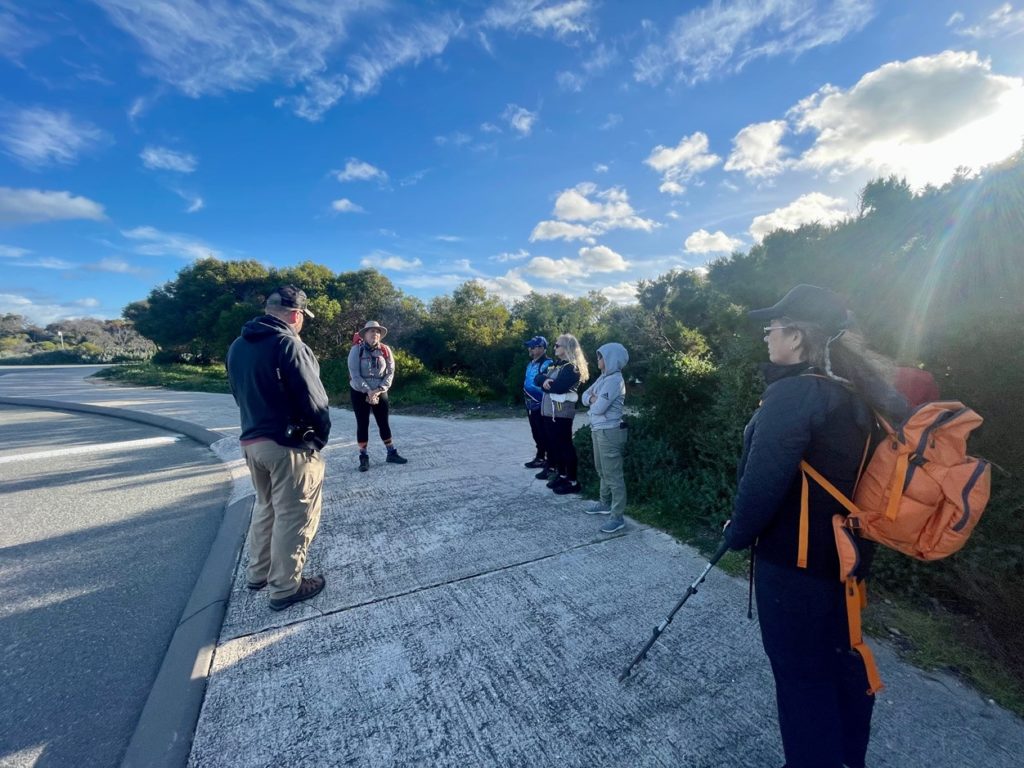 The tour started with tackling one of the bigger hills (not the stairs, don't worry), we chattered and meandered up the hill towards the main lookout passing one of the old bunkers nestled in the bush. Upon reaching the top we were greeted with breathtaking views of Shoalwater Island Marine Park and Cockburn Sound. We checked out the green bunker at the top of the hill and learnt that it held up to eighty men during World War 2.
We explored every corner of Point Peron including the suspension bridge lookout, built on a cliff over the other side. Tracy told us the names of the marine park islands and we used the bridge as an opportunity to take some snaps. We explored some fragile limestone cliffs which are over two million years old, we checked out the northern gun battery replica, built with donated parts and placed at Point Peron by the Department of Biodiversity, Conservation and Attractions in 2020. We had a gander at mushroom rock and questioned how long it would be before it topples into the sea. The Western end of Point Peron, where mushroom rock can be seen, is ruggedly beautiful and completely untouched. It was a windy night but the breeze was nice and the sound of the waves crashing over the rocks was incredibly peaceful. We continued along checking out the little bays on the West side, sometimes home to seals and dolphins. By this time, the sun was getting lower and its rays could be seen through the clouds, we knew we were in for a special sunset.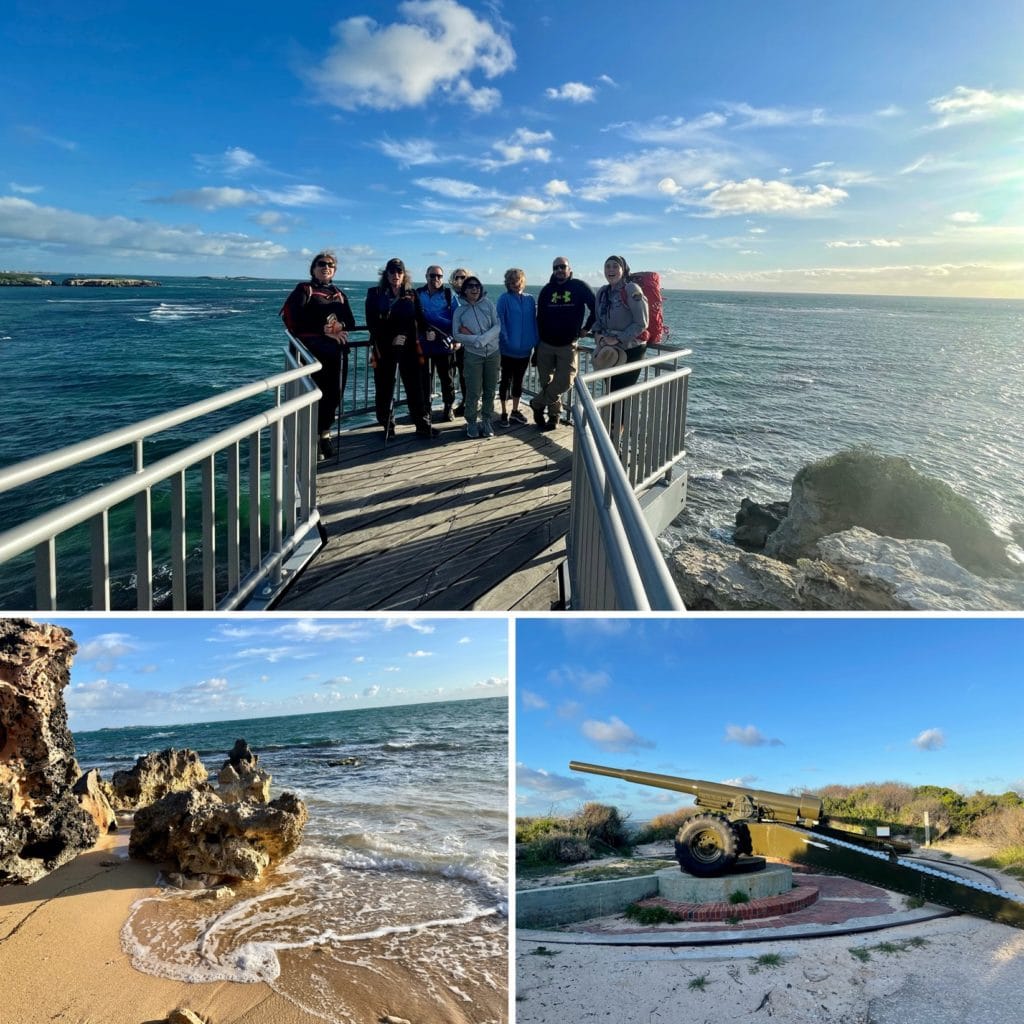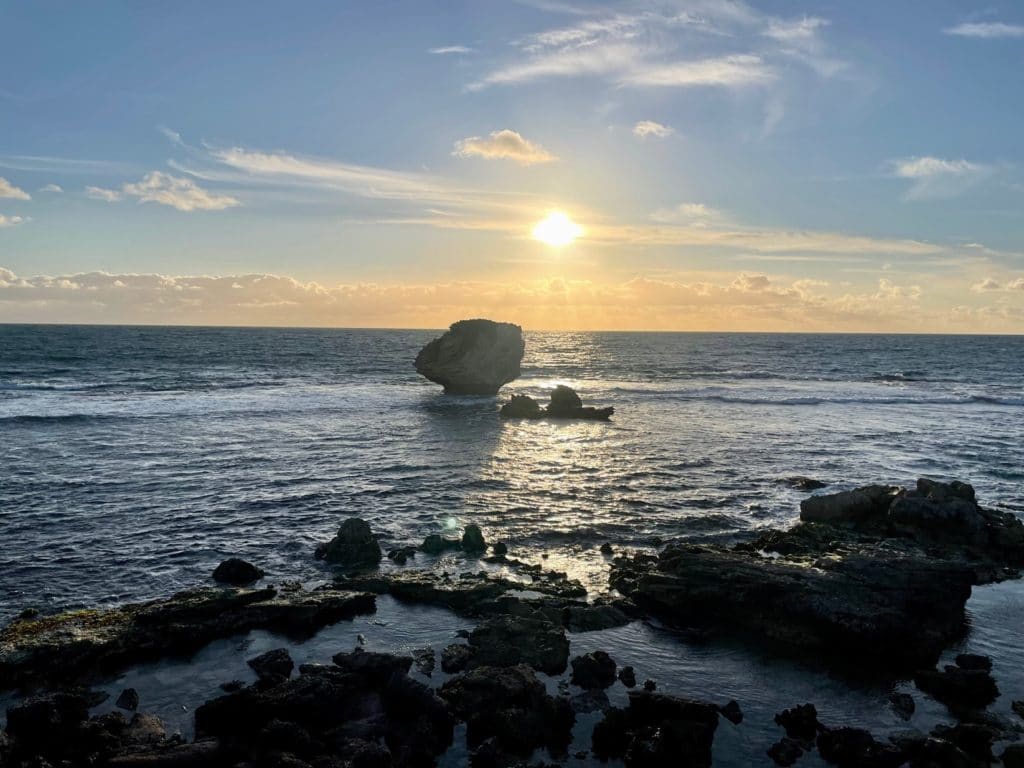 As we turned onto a different path, we became fascinated with the several dog pawprints embedded into the concrete, some of which were quite large. That particular path has been around a long time, so naturally many questions were raised and we pondered the mysterious pawprints – who was this dog? When did he come here? What breed was he? Where was the owner? If anyone knows anything about the paw prints, please leave a comment and help us solve this mystery of the Point Peron paw prints.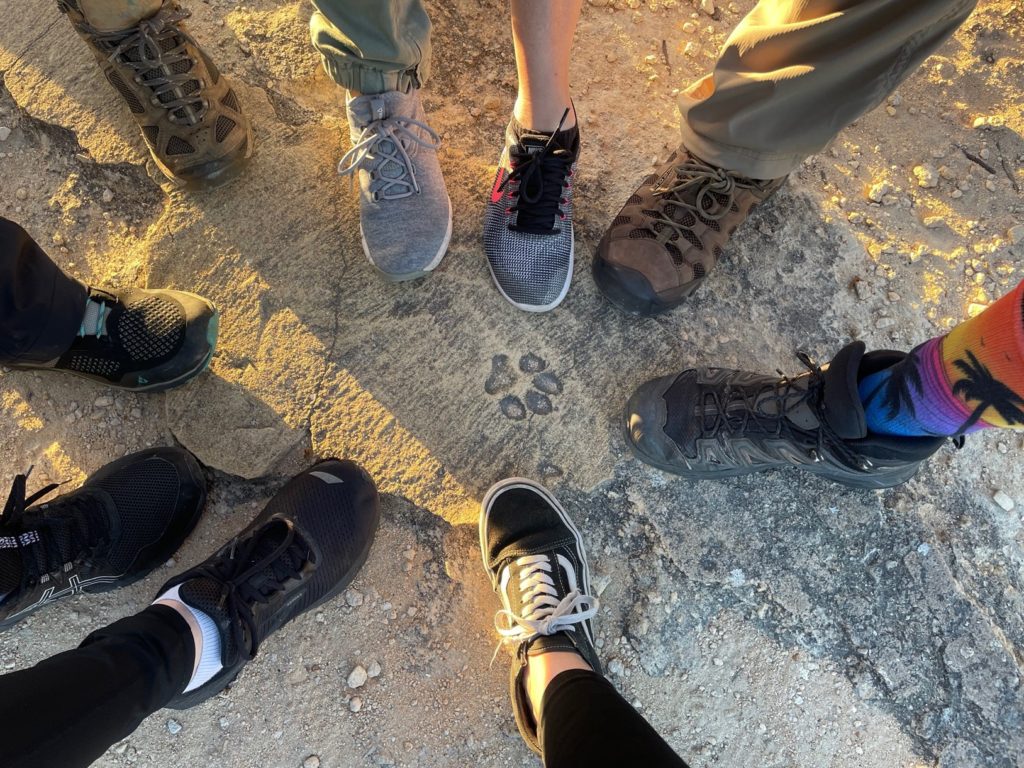 Sunset was near so we headed to the Northern end of Point Peron and found the perfect spot to relax and watch. Tracy came prepared with her Mary Poppins bag containing lots of snacks and put together a perfect cheese platter for us to enjoy, this was accompanied with a delicious glass of sparkling wine. We chatted amongst ourselves, I listened to some entertaining and heart-warming stories from repeat hikers and concluded that this is a community worth being part of. We took some photos and watched the sun disappear giving off a nice orange glow. What a beautiful way to end the week.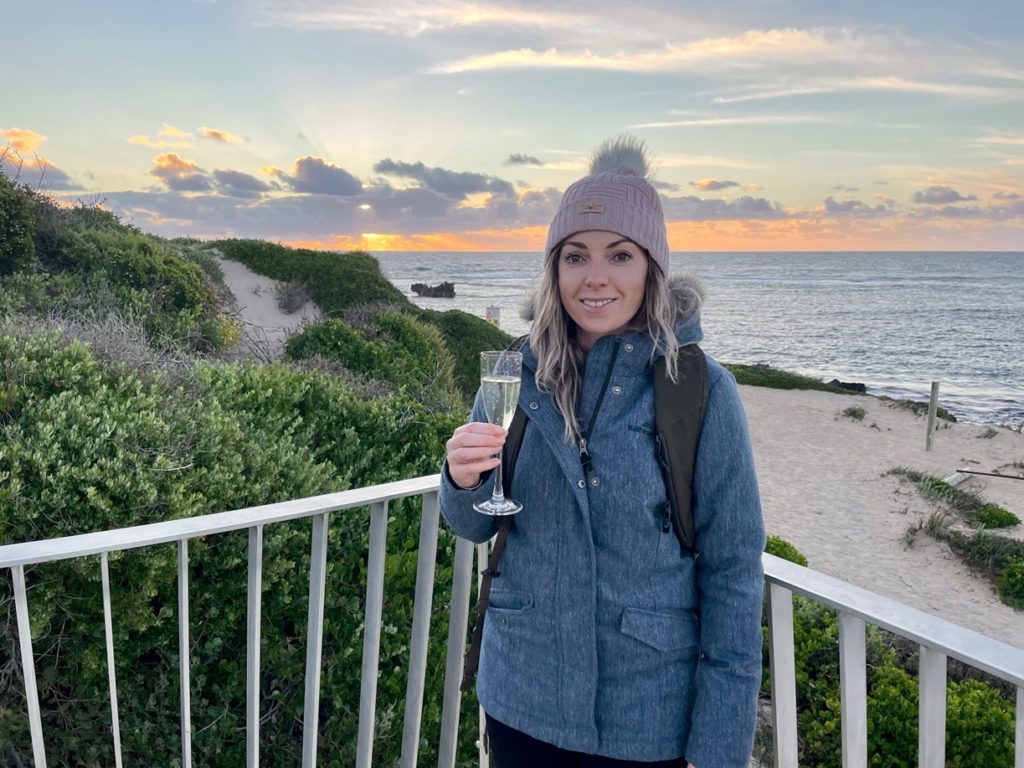 Off the Beaten Track now offer over 70 tours including multi-day hikes in the Perth Hills, South West and Great southern. With new kayaking tours and the new Sunset and Soiree tour, there really is something for everyone. There's also a private Facebook Group called 'OTBT Connect' that people can join to connect with other hikers, share tips and photos and stay informed about upcoming events.
Check out the website for more information and hiking tour dates. https://offthebeatentrackwa.com.au
Email: [email protected]
Facebook: Off The Beaten Track WA
Instagram: @offthebeatentrackwa
Follow Kim on her adventures: @adventures_of_kimidusti