One thing is certain about living on the coast in Western Australia, especially in Rockingham, it can be very windy a lot of the time! That famous 'Fremantle Doctor' aka afternoon sea breeze can be quite annoying if you're trying to enjoy a nice picnic down the beach, but for the kiteboarders and other wind sport lovers, it's a dream! Learning a wind favourable activity in Rockingham is a great idea, not only is it thrilling, during the summer months it's pretty much guaranteed that the breeze will kick in providing a consistent activity. Most afternoon's in Summer, the Safety Bay coastline comes alive with colourful, eye-catching kites and sails.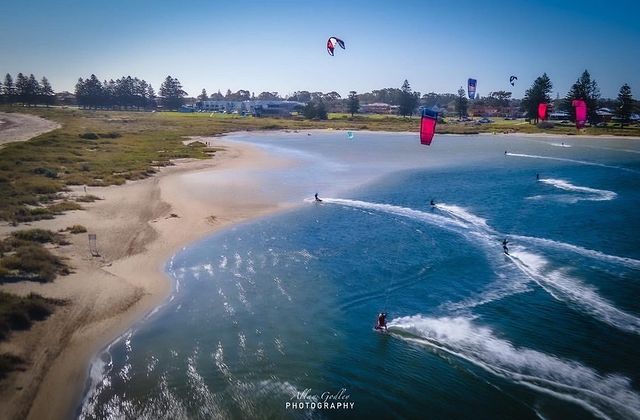 Located on Safety Bay Road, underneath the Safety Bay Yacht Club, you'll find Rockingham's very own local kite shop/school, 'WA Surf'. WA Surf is the "go to" place for everything kite and foil related. They sell a range of kiteboarding, hydro foiling and wing foiling gear and lesson packages to suit everyone, some of the popular brands stocked include Duotone, Ozone, Core, Reedin, Armstrong & Konrad. Owner and foiling enthusiast himself, Mark Slater is stoked to be doing something he is passionate about, he loves seeing his kite students progressing and says being able to live and work in an area that has so much to offer is pretty amazing. Mark is in the shop most days and will be happy to answer any questions or help people find the right gear for them.
In addition to standard kiteboarding lessons, there's a new kid on the block, a different sort of wind sport called wing foiling or wing dinging. Wing foiling involves handling a two handled wing (sort of like a very small kite with handles) while riding a shorter SUP board with a foil. The idea is to generate enough speed using the wing to get the board up and out of the water so that you are gliding along. This sport has really taken off in the last couple of years and now there's always someone out there on a wing foil having a ball.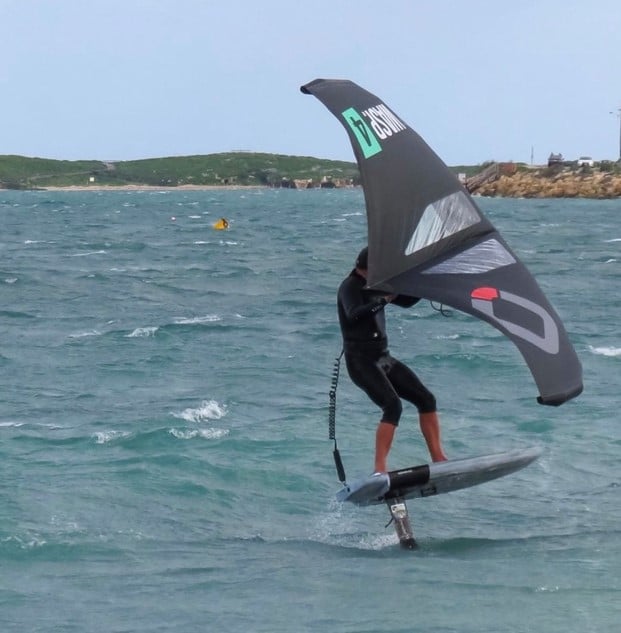 Last week, I was lucky enough to be given the opportunity to try my hand at wing foiling. I met Mark and my instructor Sam at WA surf, I was pretty nervous but they made me feel at ease straight away by talking me through the process and explaining what I would be doing. My lesson started with handling the wing on the grassed area to get the feel for it and figuring out where to place it in the wind window and how to get from a crouched position to standing while holding it. It was then time to hop in the beach buggy and head down to the beach behind the pond, the beach buggy tows the boat which acts as the rescue vessel. Sam followed me in the boat while I was winging to make sure I was ok, assisting me with my technique and taking me back upwind to have another go. I had multiple tries attempting to hold the wing and stand on the board, it wasn't super easy and but I was having a fun time trying something new and it was a great feeling being towed along by the power in the wing. I managed to have a few small rides standing on the board before losing my balance, I didn't manage to get up and ride on the foil, but I'm definitely keen to have another lesson or two to see if I can master it. Sam was a great instructor and super patient with me as I looked at him confused about what I was doing many times.


My wing foiling lesson was held directly behind the pond, this is a perfect and safe learning spot with flat water and plenty of space. This is where WA Surf hold most of their kiting and winging lessons. Lessons run for approximately two hours. In terms of equipment, the lesson includes a vest, helmet, board, wing and use of the boat. I wore my own wetsuit but if you don't have one, WA surf will provide you with one.
At the end of the lesson, if you decide you liked it enough to buy your own wing, WA Surf will refund 50% of the lesson cost. There is also a money-back deal for kiteboarding lessons. Your instructor will help you choose the right gear for you to ensure you have a positive experience going forward. Using a reputable kite school to learn is definitely recommended over learning from someone you know. Even if family members or friends happen to be great kiteboarders, they are likely not qualified instructors and may not know the safest way to teach the sport. Check out the WA Surf website for more details on lesson packages.
WA surf has plenty of exciting events on the go this season. On the 15th – 16th January 2022 the 'King of the Pond' competition is being held in Safety Bay. Hosted by Kiteboarding WA, 'King of the Pond' is a big air competition in which invited competitors will put on a show by executing their biggest and most spectacular jumps in an attempt to take the prestigious 'King of the Pond' tittle. This will be absolutely incredible to watch and a chance to see the pro's in action.
There are also some events running in conjunction with the Safety Bay Yacht club, like the twin tip and windsurf slalom racing which happens on selected weekends throughout the season. The yacht club bar is open after the racing providing a perfect opportunity to enjoy the ocean views, have a cold drink and connect with other wind sport enthusiasts in the area. Check out the Safety Bay Yacht Club Facebook Page for details of upcoming events.
WA Surf hope to encourage more people to get out on the water regardless of age or athletic ability. In a word where our technical devices often demand our attention, getting out on the water is a good way to take a break, be present and do something fun for yourself. Come and give it a go – The stoke is real, I promise you won't regret it!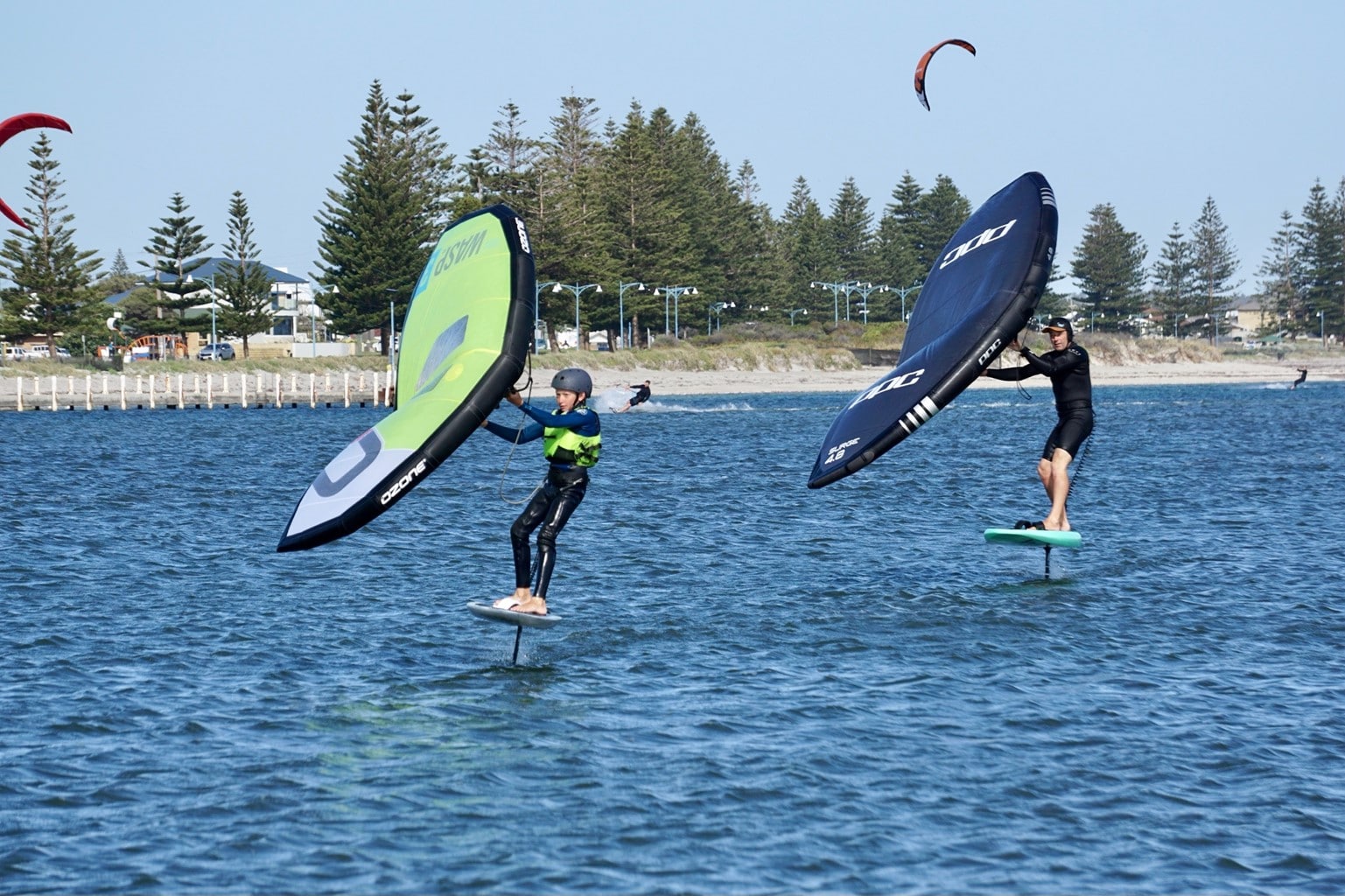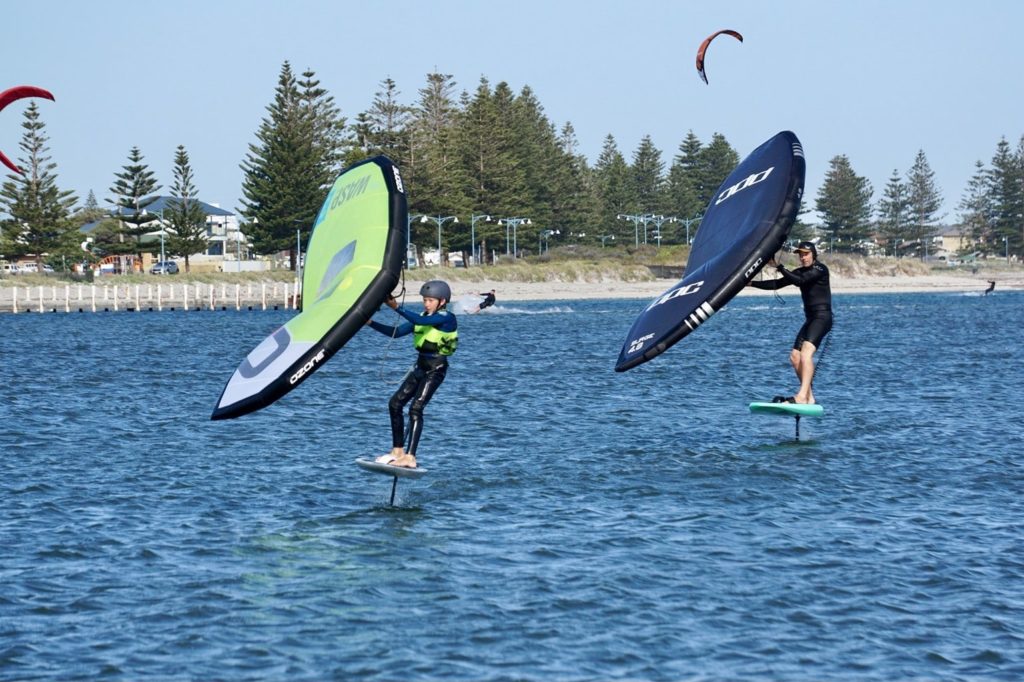 WA Surf – At the Safety Bay Yacht Club, corner of Safety Bay Road and Arcadia Drive.
Opening Hours: Monday – Saturday 10am – 5pm & Sunday 12pm – 3pm
Contact Number – Phone: (08) 9592 1657
Mobile: 0427 927 873
Website – wasurf.com.au
Facebook – WA Surf
Instagram – @wasurf_