Autumn's cool, breezy mornings and sunshine-filled days are ideal to venture outside and rediscover the natural beauty of Rockingham.
Travel just 45 minutes to Perth's outer Southern suburbs to discover where the coast comes to life with breathtaking beaches, abundant marine life and ancient natural wonders.
Whether you're seeking adventure, a close encounter with wildlife or simply a leisurely stroll, there's something for everyone in Rockingham – and it's yours to explore this Autumn.
Step up and enjoy one of the many walking and running trails, or dive in and discover one of Western Australia's most protected and culturally significant marine areas, the Shoalwater Islands Marine Park.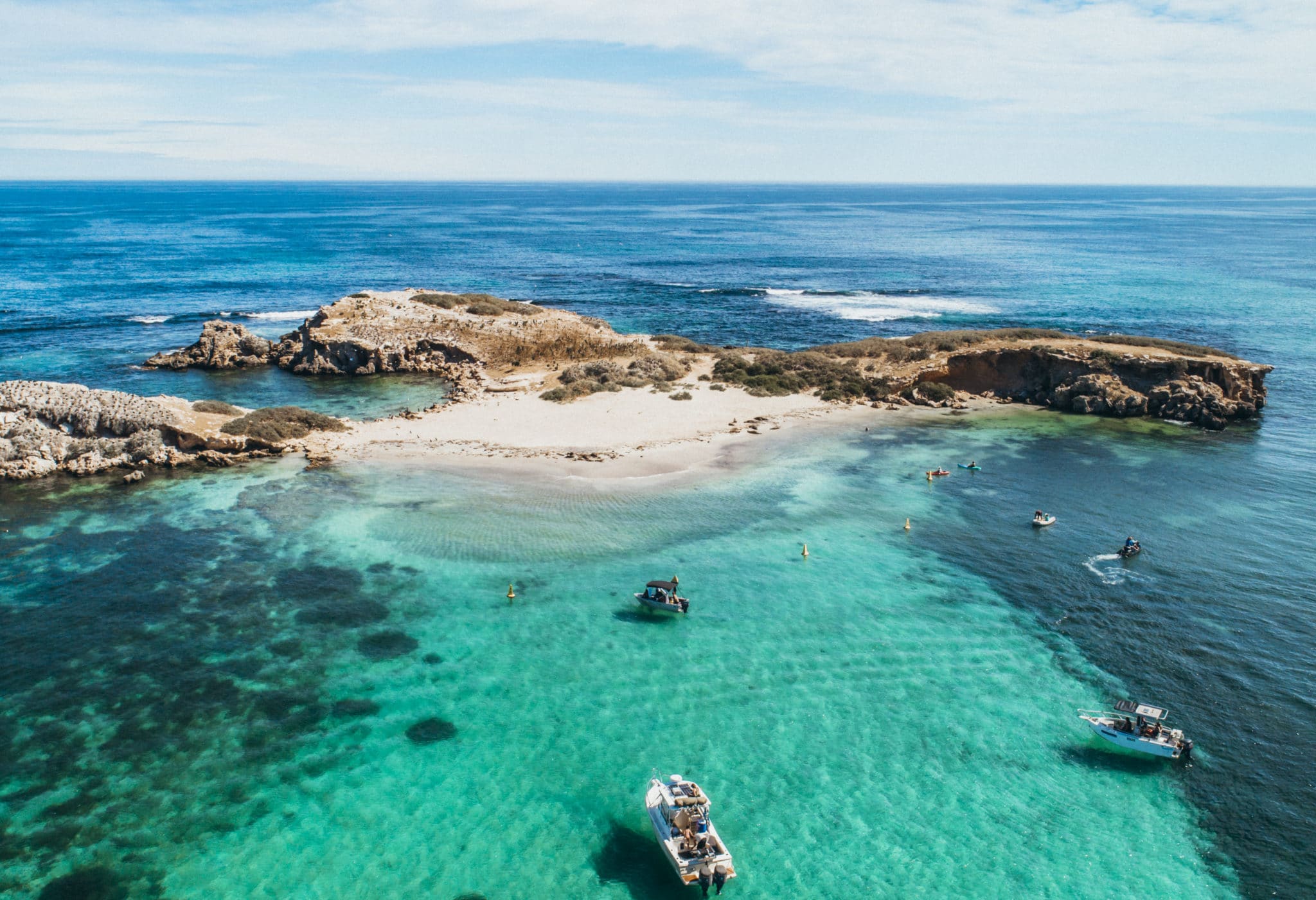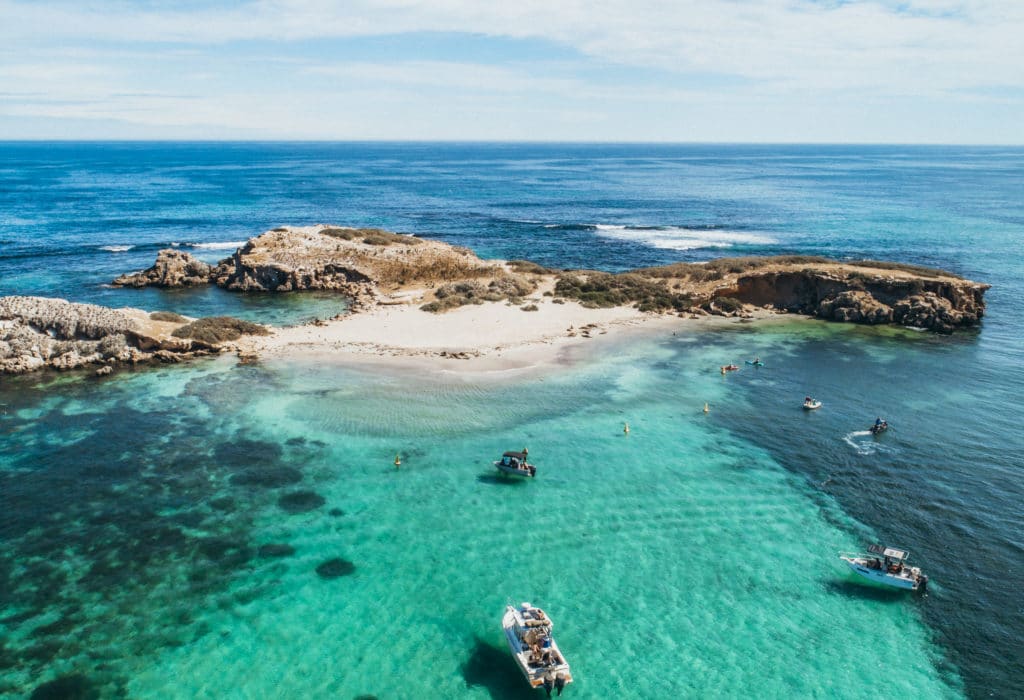 Meet the world's smallest seabird at Penguin Island
Penguin Island is the most popular destination within the Shoalwater Islands Marine Park. The entire island is only 12.5 hectares in size and is positioned just 600 metres from the mainland. The island is easily accessed – it's just a speedy five minute trip onboard Perth Wildlife Encounters hourly return ferry service.
Autumn is the perfect time to visit the island, with ferries to Penguin Island and tours of the Shoalwater Islands Marine Park continuing to operate until early June.
Once you reach the impressive, rugged island, expect to find safe, sandy beaches with pristine turquoise waters and shallow lagoons ideal for swimming and snorkelling. Thriving with wildlife, delight in close encounters with rare sea lions, wild dolphins, pelicans and of course the island's more famous inhabitants: penguins.
Approximately 250 penguins inhabit Penguin Island – 'flying' underwater and adorably awkwardly waddling on land. They are the smallest (and cutest) breed of all penguins weighing just under a kilo and are aptly named – you guessed it – Little Penguins. Little Penguins are the only species to live permanently in Australian waters and are also referred to as Blue or Fairy Penguins. As an added bonus, you can watch the penguins feed at 10:30am, 12:30pm and 2:30pm daily.
Penguin Island closes for the penguin nesting season in Winter, so now is the perfect time to jump aboard a ferry! Ferries depart hourly from 9am to 3pm, so the island is yours to explore, snorkel, swim, kayak, picnic or embark on a guided cruise (on foot or by glass bottom boat) at your own leisure.
Ready to get up close and personal with the world's smallest penguin? Visit the Penguin Island Visitor Centre for more information.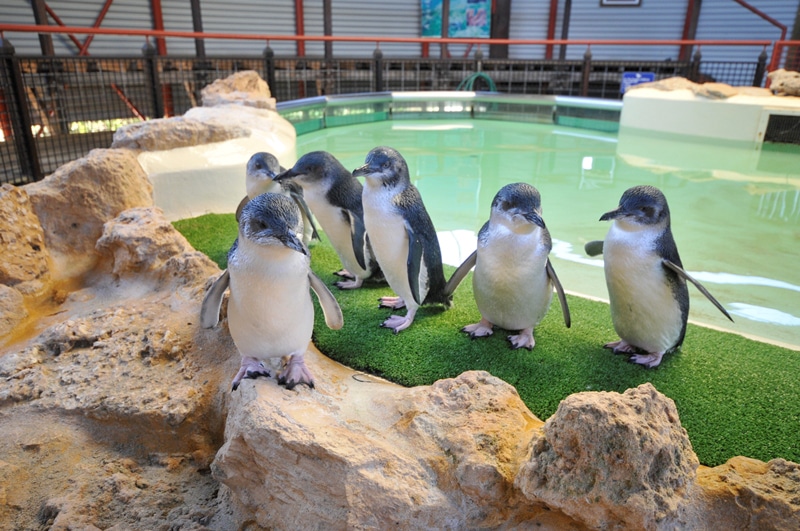 Feast your eyes on spectacular coastline at Point Peron
Rockingham is surrounded by spectacular coastline and Point Peron is the ultimate spot to experience the eye candy. Enjoy the majestic, uninterrupted ocean views of Shoalwater Islands Marine Park while wandering the long stretch of walking trails. After, explore the stunning bays – nature's perfect spot for swimming, snorkelling, fishing or simply relaxing.
For divers, Point Peron offers a shallow shore dive with crystal clear waters, ideal for exploring the underwater playground of limestone reef caves and diverse marine life (including very friendly dolphins!). For underwater adventurers, check out the Cape Peron Snorkel Trail. The trail features interpretive signs to guide your expedition and provide insights into the unique reef system.
While you're there, be sure to check out the landmark World War II gun lookout and keep your eyes peeled for the remaining historic bunkers along the way. Hint: in the late afternoon, Point Peron is a prime spot to enjoy the sunset over the ocean.
Be sure to snap up a delicious coffee, milkshake or freshly baked cupcake (or all three!) from the restored vintage van, Vanilla Sprinkles. The van is parked at Point Peron every day except Tuesdays, between 7:15am to 12pm.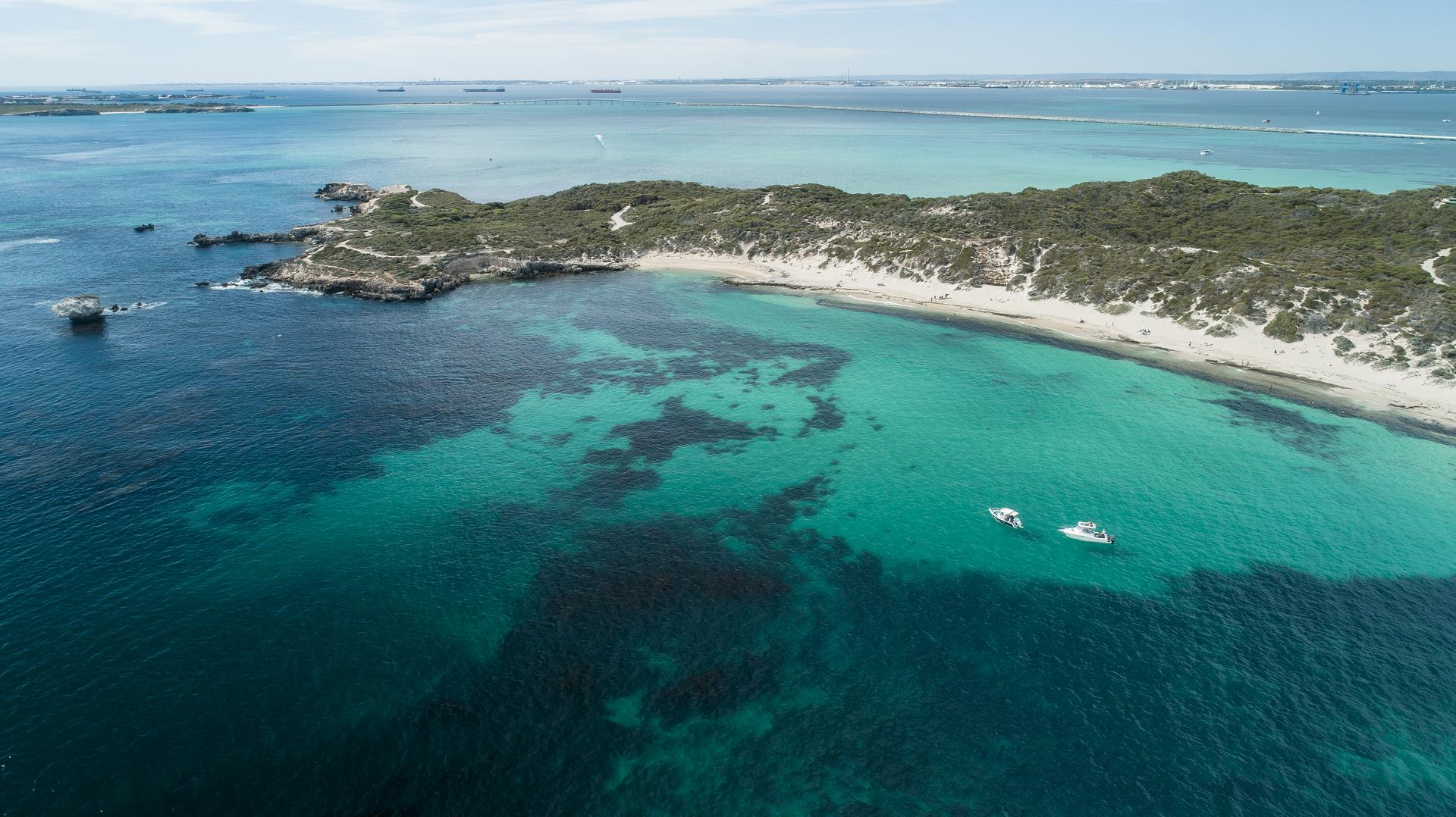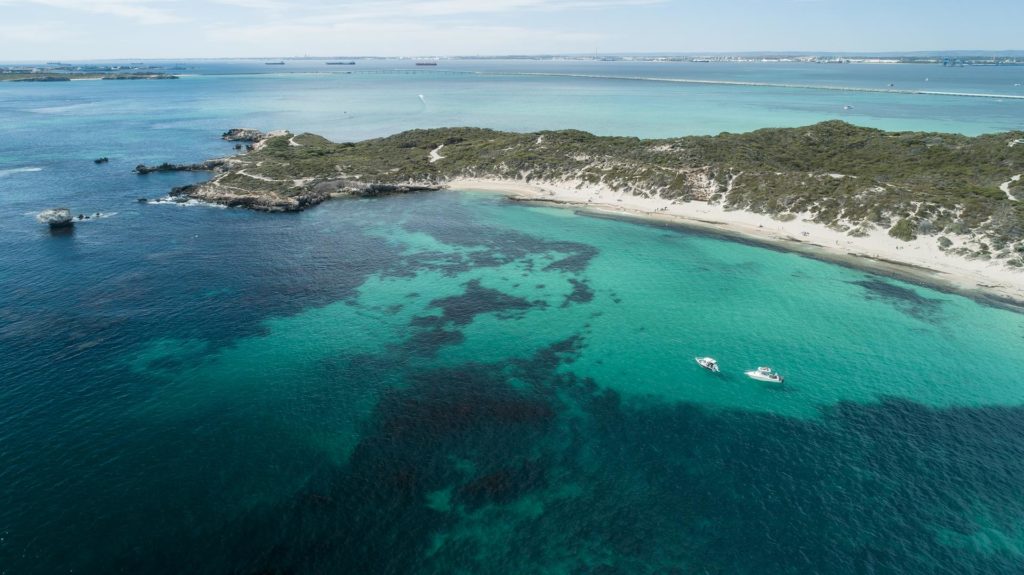 Immerse yourself in nature while exploring Rockingham on foot  
Put on your favourite pair of sneakers, switch on your pedometer and step out to explore the countless, self-guided walking trails in the Rockingham area.
For your first on foot adventure, wander the scenic Lake Richmond walking trail. Generally considered an easy route, this trail is ideal for walking, running, and birdwatching. The trail includes a lookout and a bridge to safely walk over the lake and get a close-up view of some of Western Australia's only remaining living fossils – the thrombolites. The critically endangered, limestone coloured rock-like thrombolites are Earth's earliest known life forms and have helped scientists unravel the secrets of how life began on the planet. The thrombolites are a natural phenomenon and are a drawcard for sightseers from far and wide!
Lake Richmond is nestled in an area undergoing rapid urban expansion and is just across the road from the Rockingham Regional Environmental Centre – a great place to take the family to learn more about Rockingham's unique nature and wildlife.
Still got some gas left in the tank? Then it's time to explore more of the tranquil walking trails in Rockingham and surrounds!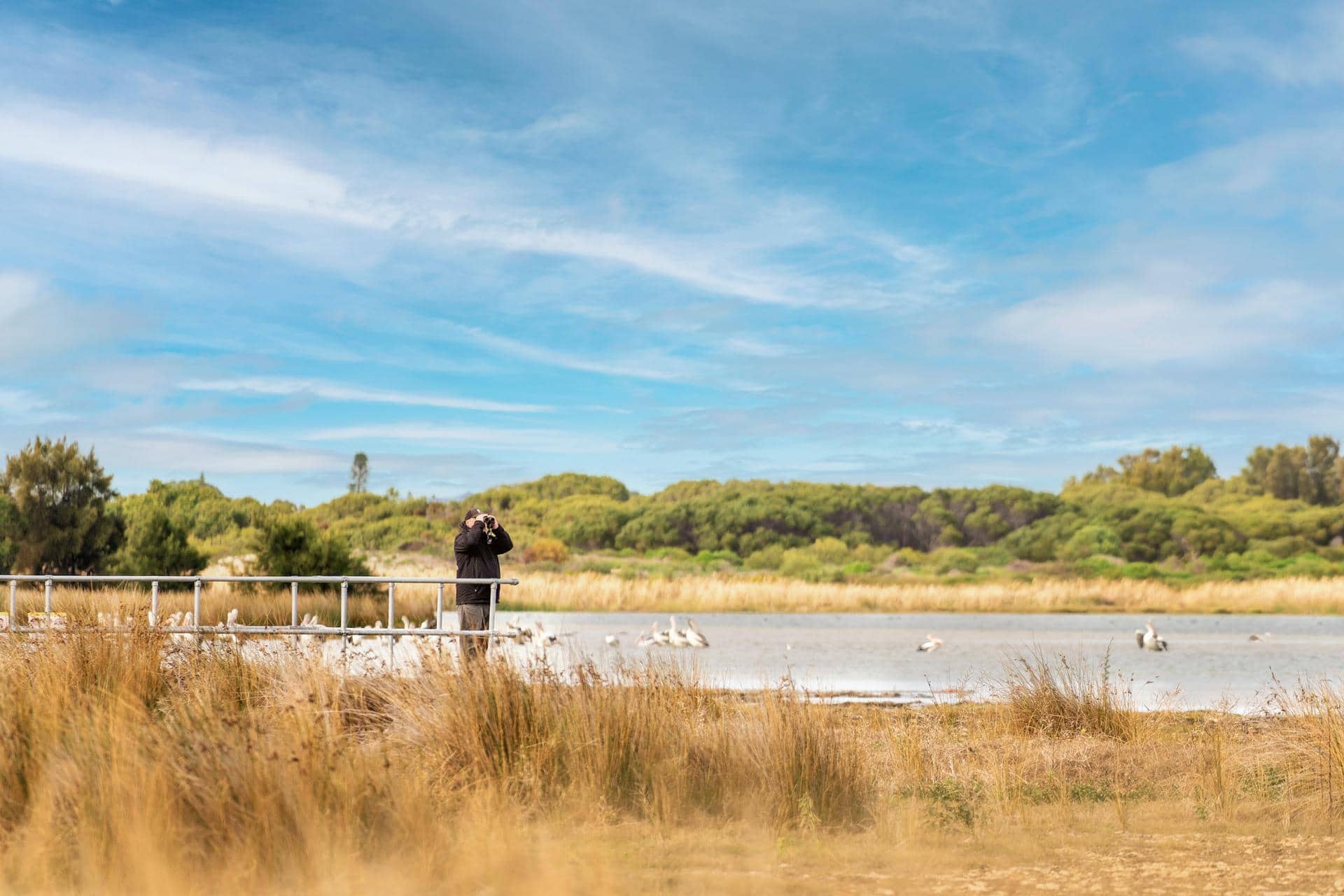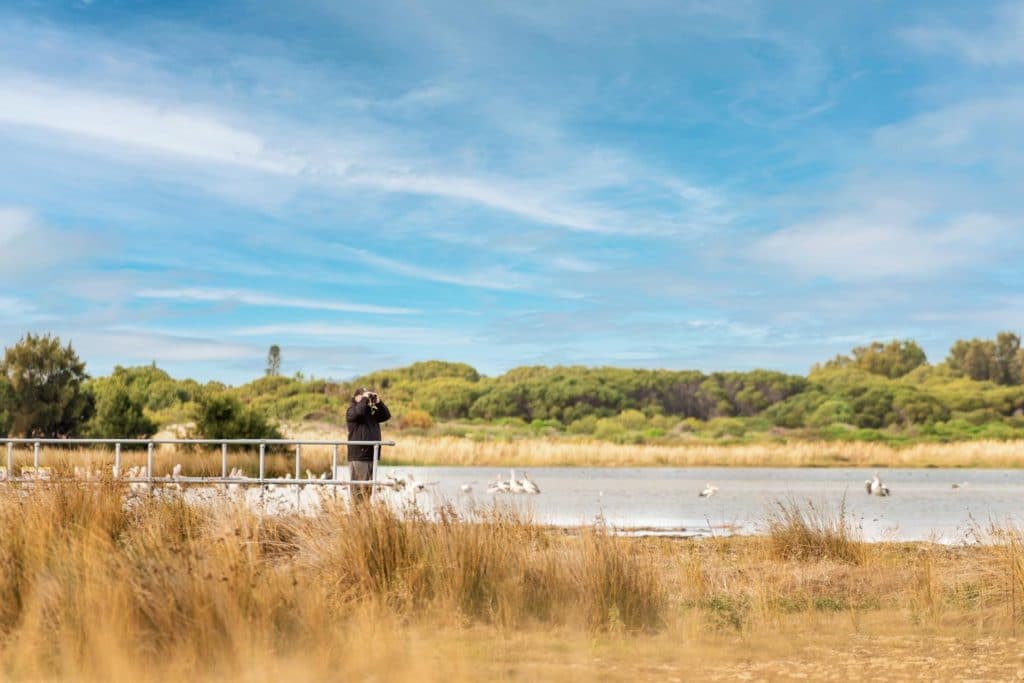 Waterfront Heritage Trail
Meander along the Rockingham foreshore on the four kilometre Waterfront Heritage Trail. Pause to observe meaningful cultural heritage icons including the community gardens, museum and public art installations. These icons represent Rockingham's connections to the past and reflect the community's relationship to the waterfront and its rich multicultural identity.
Foreshore Flow
If you're up for a more challenging walk, follow the 23.5 kilometres Rockingham to Secret Harbour Foreshore Flow. This longer walking trail connects Rockingham to Secret Harbour and offers picturesque views from the Rockingham foreshore. The shared trail is designed for cyclists and pedestrians, bypassing charming cafes, beaches and cultural heritage icons.
The Rockingham area is home to an expansive 37 kilometres of stunning coastline so there's always something new and exciting to explore. Check out the full list of Rockingham's walking trails here.
Autumn is the perfect time to rediscover the natural beauty of Rockingham.
Explore all the amazing regions nearby and discover all that there is to do in Perth. Visit Destination Perth to uncover activities, events, places to stay and things to see and do in Perth and the surrounds.